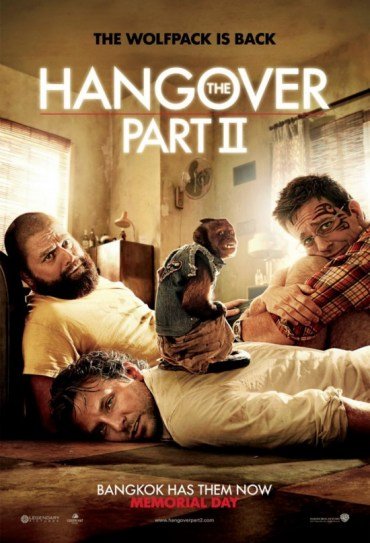 Directed by Todd Phillips. Starring Bradley Cooper, Ed Helms, Zach Galifianakis, Justin Bartha, Ken Jeong.

Not being a big fan of 'cult' film The Hangover, I really didn't have expectations for its sequel. Part II is as silly as the first one, the gags and story are pretty much the same. I expected a tad more vulgarity considering it is Bangkok but you won't be disappointed with the offensiveness rest assured. Warner Bros. wanted to serve beer for the preview, but couldn't. Maybe they could've tried for hookers…

Okay, so the thing is you don't really know whether this movie is good or bad or just plain ugly. Most critics think it's ugly. But come on. It is what it is. A vulgar comedic farce that has some great things going for it. Like the cast for one. You've got every girl's dream boat Bradley Cooper (the PR girl was like, he must be at least 6 feet 2 right?), you have Zach Galifianakis whose deadpan humour is often a laugh riot and Ed Helms whose geeky yet rugged persona complements the Wolf Pack. They've certainly got the chemistry, which is why I think good boy Justin Bartha has been left out of the gang's mayhem yet again.

Dentist Stu's (Helms) wedding with Asian beauty Lauren (Jamie Chung) is on and they're doing it in style on one of Thailand's idyllic island resorts. And though the gang vows not to get into trouble like last time, it happens again, this time they lose Lauren's little brother Teddy (Mason Lee) in Bangkok after another wild night they don't remember.

Stu gets a tattoo on his face, the gang finds the severed finger of Lauren's younger brother, a capuchin drug-peddling monkey joins the trio, Mr Chow (Jeong) 'dies' and there's a transsexual nightclub involved on their night of debauchery. Muddled up in something serious again, they encounter a criminal kingpin played by Paul Giamatti and must now search not only for Teddy but also for a bank code. Ya, it's pretty nonsensical when you think about it all but hey, you're not supposed to.

Director Todd Phillips has done a great job shooting the film, it's slick, sharp and captures the beauty and the seediness of Thailand perfectly. Though the filmmaker's decision not to include Mel Gibson (as a tattoo artist, because Mel was busy threatening his ex) and their equally stupid finale with Mike Tyson (it was a surprise in the first film but here it's just tacky) may cost them 'cult' status on this one.

The Hangover Part II is wild, wacky and vulgar, all the things you'd go to watch this movie for. Sure the story is absent and some parts are pretty contrived but you know you wanna watch it. And you probably will.