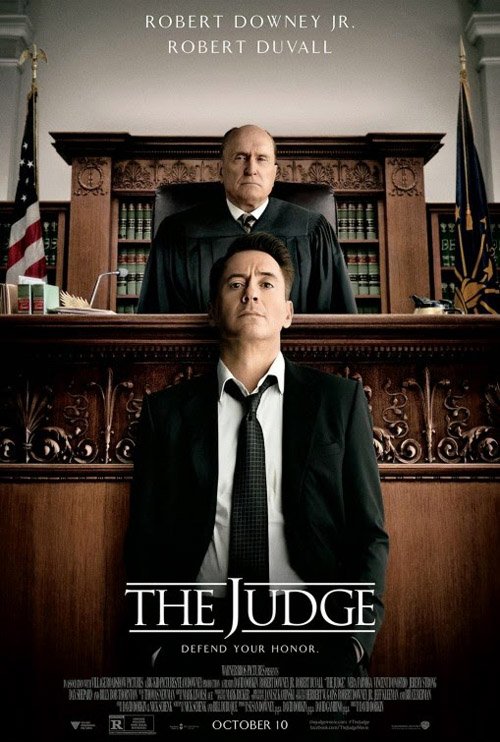 <Review by: Sailesh Ghelani>
Directed by David Dobkin. Starring Robert Downey Jr, Robert Duvall, Vera Farmiga, Vincent D'Onofrio, Billy Bob Thornton, Jeremy Strong, Dax Shepard
After watching the trailer I thought this was a courtroom drama but it isn't. Instead it's a real look at a dysfunctional family dealing with all sorts of drama.
Robert Downey Jr is introduced to us as a successful but brash and emotionless lawyer Hank Palmer but very soon we realise he has an empty life, a wife who has cheated on him, and no time for his daughter. His father has basically disowned him since he hasn't set foot in his parents' house in decades but his mother's death changed that.
Back home his father Judge Joseph Palmer (Robert Duvall) shakes his hand and treats Hank like a stranger. His brothers Dale (Jeremy Strong) and Glen (Vincent D'Onofrio) both have troubles of their own they deal with in very different ways.
The morally just and disciplined Judge is a man set in his ways, hardened but with a soft centre. And Hank we realise isn't someone without emotion, just a man carrying a grudge way too long. In his old town he meets his old girlfriend Samantha (Vera Farmiga) but before he can reignite any sparks his father the Judge is arrested for killing a man who had come before him in court. Now Hank must convince his by-the-book father to let him fight to defend him.
As the criminal drama unfolds in the background, Hank and Joseph bicker but in these arguments they rediscover a bond. This is only strengthened when Hank finds out his dad is battling a terminal illness, which makes the Judge even more obdurate but ill health forces him to rely on his son. The moments when Hank takes care of his dad are sensitive and funny.
Forgiveness, regret and going back to your roots are themes The Judge uses effectively. There's no CGI, guns or cars blowing up. It's human drama that unfolds before you in a tender and poignant manner.
You'll probably go watch this film just for Robert Downey Jr but the cast is uniformly wonderful. Billy Bob Thornton as the prosecuting attorney doesn't have much depth but plays his part admirably.
The Judge is a simple tale of family squabbles and bonds that will warm your soul and tickle your funny bone in an old-fashioned sorta way.