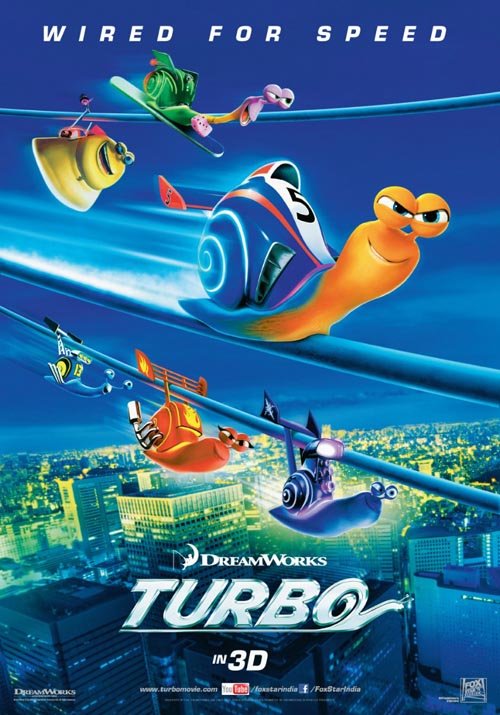 <Review by: Daylynn DeSouza>
Directed by David Soren. Starring the voice talent of Ryan Reynolds, Paul Giamatti, Michael Pena, Samuel L Jackson, Luis Guzman, Bill Hader, Snoop Dogg, Maya Rudolph, Ben Schwartz, Richard Jenkins, Ken Jeong, Michelle Rodriguez, Kurtwood Smith
When I first heard about this movie I thought it would be boring and predictable and to be fair there's not a lot of stories left to tell out there. But any story told well is one worth listening to. Or watching, in this case. If you think this movie isn't going to be as good as Despicable Me 2 or How to Train Your Dragon or Rise of the Guardians… you're wrong. And don't even begin to think it's anything like the horrific, abysmal monstrosity that was Cars 2.
Now for the plot: our protagonist Theo, a.k.a Turbo (Ryan Reynolds) is an average garden snail, who wants nothing more than to be a racer like his idol Guy Gagné (Bill Hader). After a bad day at work in the Tomato Garden, Theo ventures off into the night and ends up getting sucked into the engine of a car like the one Vin Diesel drives in Fast & the Furious.
Unfortunately his newfound powers get him and his brother Chet (Paul Giamatti) fired from the Tomato Garden and things begin to look even worse as Theo and Chet appear to be captured by a man named Tito (Michael Peña) who works at a Taco Shop with his brother Angelo (Luis Guzmán) and all this after escaping death at the beaks of some nasty, horrid, disgusting crows. Luckily Tito just wants to enter Theo and Chet in a snail race with the other business owners in the little strip mall where they all work.
Theo impresses everybody including the other snails, led by Whiplash (Samuel L. Jackson), with his crew Smoove Move (Snoop Dogg), Burn (Maya Rudolph), Skidmark (Ben Schwartz), and White Shadow (Mike Bell). Tito is instantly attached to Theo and wants to use him to help promote business at the Taco Shop, although he doesn't seem to have a lot of support from Angelo, with good reason being that Tito wants to enter Turbo in the Indy 500.
The only thing I can say about the voice acting in this movie is with the exception of Sam Jackson, Luis Guzmán and Snoop Dog who all have voices so distinguishable that you'd recognise them through a hundred kilometres of cement, I could not connect any of the other voices. If I had to guess who was voicing Kim Ly, the little old lady Asian lady who owned the nail salon I'd never in a million year have guessed Ken Jeong, and the same goes for Bill Hader with his voicing of Guy Gagné.
The animation is nothing short of amazing and there are times when you ponder how certain things in the movie can look so much better than they do in real life and the music in the movie just makes you want to sing along. I had to restrain myself from singing 'It's Tricky' by 'Run DMC' and quite a number of other cool great songs. The background score in the movie blends in seamlessly.
That being said, Turbo is not just a movie a bout a really fast snail that can race against cars, it's a movie about brothers (the human and the snail variety), it's a movie about passion and believing in yourself, it's a movie about never giving up on your dream no matter the odds, about friendship and most importantly it's a movie about not settling for something that's not what you want and deserve. And, Hey when was the last time you thought about what role snails play in our eco system? This might just get those wheels in your head to start turning and save a few snail lives in the process.
Surprisingly enough even though Illumination Entertainment (Despicable Me) wasn't involved the 3D in this movie is actually good. Not as good as Despicable Me 2 but still better than the crap they use to sell movies like Avatar and Life of Pi. If you've got the extra money lying around catch it in 3D if not, you're not missing a lot.