<Review by: Amit Divekar>
In global fashion, there are some trends that go down runways, are liked and picked up by the fashion folk and incorporated into their wardrobe, to suit their own personal style. Therefore these trends slowly and subtly infiltrate into the fashion scene and ultimately reach consumers.  But then there are other trends that go down runways and from that moment on they literally hit the fashion world like a hurricane. They become overnight successes. People fall in love with them. Obsesses over them. Everybody wants to own them, wear them the next day. And they do! They officially become a rage.
One such craze that trended in Menswear SS2013 across the board was undeniably ankle-length pants. Prada, Ferragamo, Zegna, Versace, D&G, Missoni, D'squared, Frankie Morello, every name worthy menswear brand had these and only these showcased in their shows. Every single man on the streets of Milan, Paris and New York (and a few like yours truly on the streets of Mumbai) has been seen wearing them. I confess I was consumed by this trend! So much so that I started building the rest of my ensemble around my ankle pants everyday. Be it a regular workday, a wedding, a party, a meeting or a vacation.
But my penchant aside, what I found to be most fascinating about this trend is, that it is an extremely convenient, adaptable trend. Very doable, wearable. The reason being one doesn't necessarily need to have their pants cut/altered to the ankle or made to order. One could just fold them up. That's right! One of the coolest looks within this trend is pants or jeans with small folds rolled up to the ankle. As simple as that. Just put on your (preferably fitted or semi fitted) trousers, turn up the cuffs a couple o' inches and you're good to go! You just boosted your look from drab to Fab.
The other great thing about this trend is its versatility. You could integrate turned up pants into any look you desire.
You could have a bespoke suit with pants cut to the ankle worn with a dress shirt, tie/bow and slick leather lace ups – A chic formal look:
A swank semi formal look- A blazer or waistcoat worn over a tee or casual shirt and ankle folded chinos/corduroys, worn with loafers:
A relaxed casual look with a sweatshirt or a vest with skinny jeans folded up worn with sneakers or moccasins: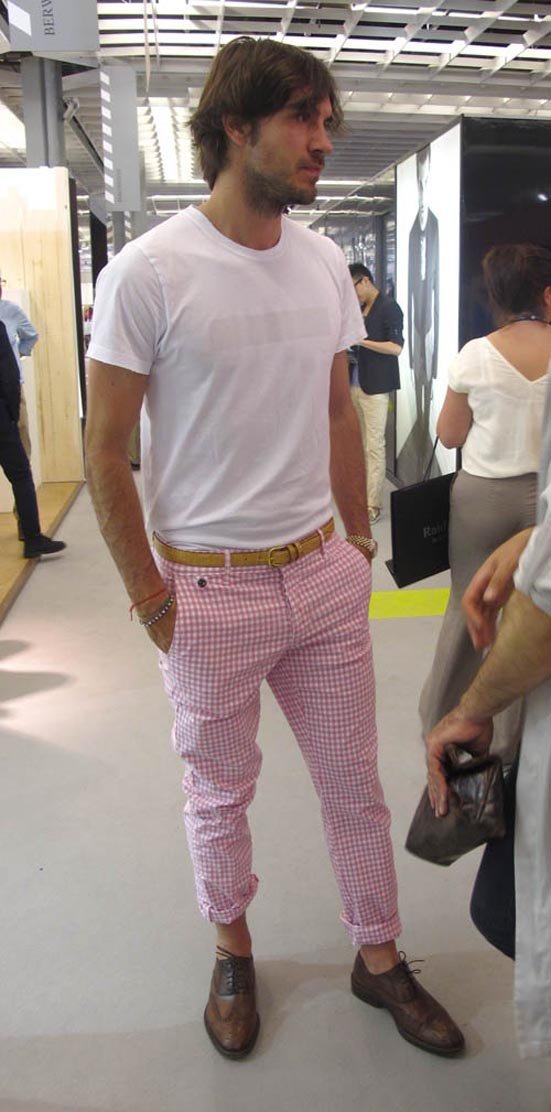 Or a scruffy rugged look with maybe a leather jacket, faded folded denims/cargos worn with combat boots or ankle length distressed lace ups:
And of course you can always mix and match the looks and have fun with them.
Although I strongly recommend you go sockless or wear Peds (skin-coloured socks that can't be seen when you wear shoes), if you like to tease you could perhaps add a touch of whimsy with neon/contrasting socks peeking through or a funky belt and make your ensemble even more exciting.
You have the liberty to wear anything you fancy above them or below your rolled up pants. Team them up with any kind of footwear and any type of shirt, tee, jacket or coat!
Now I do believe it is wiser to stick to classics and not be a fashion victim. But if it was so easy-peasy to follow a trend and look "with it" without breaking your back or bank, why not? So, whether you're a dude or a prude, I say turn it up and turn it on!