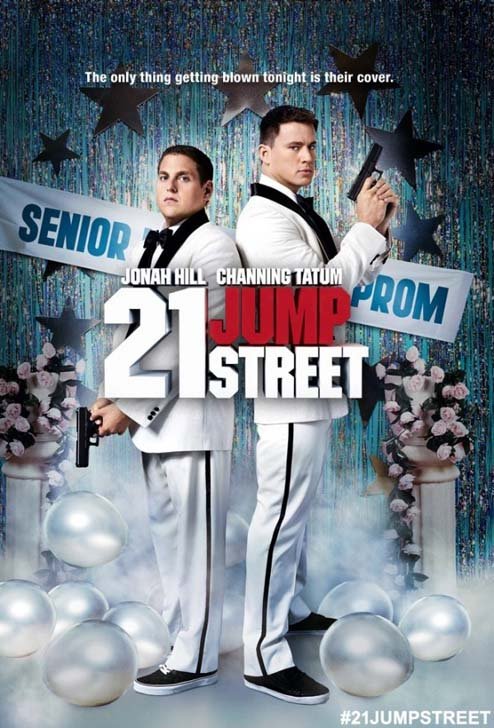 <Review by: Sailesh Ghelani>
Directed by Phil Lord, Chris Miller. With Jonah Hill, Channing Tatum, Ice Cube, Brie Larson, Dave Franco.
Based on a popular 80s TV show (proving again that Hollywood minds are running dry), 21 Jump Street has loads of slapstick, vulgar humour. While I didn't enjoy it, the regular audience did LOL and even critics seem to have taken a shine to it. There lies my predicament.
So maybe it was just an off day for me, I mean I laughed-out-loud for This Means War, which was also a tad slapstick and had lots of vulgar humor. So why didn't I like 21 Jump Street? Maybe it's because I don't think Channing Tatum (who has co-produced this film) is a good actor. On the other hand I love Jonah Hill (Moneyball) as an actor and he's even co-written this script, which audiences seem to find hilarious. I can't deny that a wry smile did break out on my fine face a couple of times in the film.
The TV series (that starred young Johnny Depp) was about a special police task force that comprised baby-faced officers infiltrating schools and weeding out drug dealers and other such juvenile and professional outlaws. Taking off from that, jock Jenko (Channing Tatum) and geek Schmidt (Johan Hill), who were in high-school together and then join the police force where their Laurel and Hardy type antics get them into a lot of trouble, are recruited into the special program.
There they find that times have changed since their high school days: Jenko is no longer the cool dude and Schmidt gets recruited into the 'in' gang. This role reversal makes for an interesting plot twist.
There's lots of sexual humour, lots of 'motherfucker', 'dick sucker' dialogue and even a whacked out bike/car chase. Channing Tatum looks a bit chubby in this film, but of course the writers make him out to be god's gift to women. Jonah Hill, who gave a brilliant performance in Moneyball alongside Brad Pitt, is actually the centre of this film. His understated wit and genuinely sincere performance is what stood out for me. And maybe, just maybe it is that balance between Tatum and Hill that audiences identify with. As I said, on the day, I just didn't like this film and couldn't fathom why everyone was laughing. But in this case, I think you should probably check it out for yourselves and go with friends: the girls seemed to enjoy it thoroughly.
The finale gets strangely and weirdly ("you shot my dick") violent but a special guest appearance is a surprise for most who aren't familiar with the original TV show. So even though I wasn't amused (maybe I'll watch it again), I'd suggest you watch this one and come tell me how it was…
I would have given it two stars but the three stars is for me succumbing to audience pressure! Sue me this time I guess.