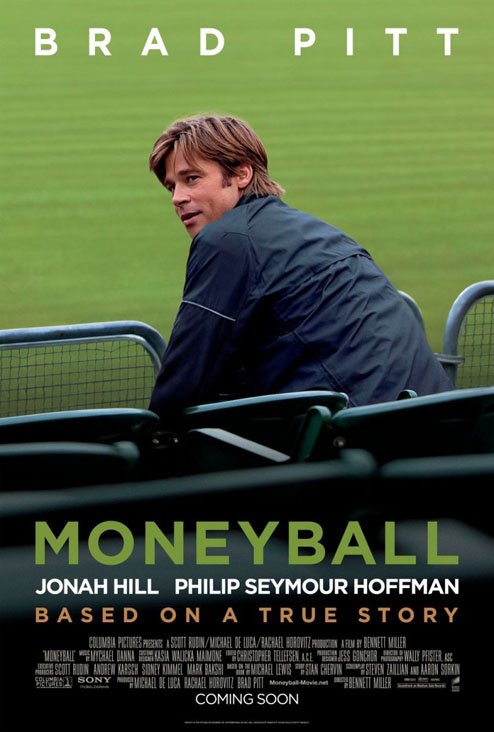 <Review by: Sailesh Ghelani>
Directed by Bennett Miller. Starring Brad Pitt, Robin Wright, Jonah Hill, Philip Seymour Hoffman.
The true story in Moneyball is played almost entirely off the field but it is nevertheless inspiring and engaging.
A lot of people may not know the intricacies of the American sport of baseball and though the film is replete with technical jargon and statistics about the game, the filmmakers have still managed to make things simple, relatable and stirring.
Brad Pitt plays Billy Beane, a former baseball player expected to make it big but ultimately disappointing his scouts and himself. He eventually becomes the manager of the Oakland Athletic's baseball team and faces some difficult decisions being at the helm of a losing team with almost no star players. In a league that is constantly 'trading' players from one team to another, Billy Beane is groping in the dark, trying to convince other teams to trade him their players. But little does he know, he's got it all wrong. Geeky economist turned analyst Peter Brand (Jonah Hill) who works for a rival team lets Billy in on the secret of 'statistical analysis'.
After stealing Peter away, Billy decides he's going to give this new form of player selection (that figured in the book by Michael Lewis called Moneyball: The Art of Winning an Unfair Game) a fair chance. Skeptics in the team aren't convinced and it's an uphill battle that doesn't pay off immediately.
In between all the trading of players and the struggle to find the perfect team, director Bennett Miller intersperses flashbacks from Bean's youth and his disillusionment and dejection at being a failure and making the wrong decision to get in to the field of baseball. You also learn that he has a family, an ex wife played by the lovely Robin Wright and a daughter who plays Jack Johnson songs on her guitar and subtly inspires her dad. Which means he has even more to prove while struggling with his own demons and superstitions (he never watches his own matches).
Moneyball is about strategy and the business of the game. It isn't about players on the field-winning matches. It's about how a winning team is made, the politics and the technicalities of sport, that make it more than what you watch on TV or go to the stadium and watch with your hotdog and foam finger hand. All this makes Moneyball an intriguing film and something different from the regular formula sports movies.
Jonah Hill is funny and likable. Philip Seymore Hoffman as the reluctant coach of the team who fights Billy Bean's decisions plays his grumpy part well. Brad has been nominated for an Oscar for his role, enough said.
Moneyball is the more subdued of this week's award-winning/nominated films but it is an intelligent and entertaining movie nonetheless.