Our special correspondent in 'Torono', Swati Sharan has been mingling and movie watching at the prestigious and celeb-filled Toronto International Film Festival 2013 especially for Minority-Review after we received press accreditation from them.
Read our exclusive coverage and watch the videos where she asks questions to celebs like Pierce Brosnan, Emma Thompson and Liam Neeson here.
Here are her reviews (3rd Set) from some of the many films being screened at TIFF 2013
Qissa (3/5)
Irrfan Khan, Tisca Chopra, Tillotama Shome | Directed by: Anoop Singh
Qissa is a tale about Punjabi refugees who leave Pakistan and settle in India after partition. After having daughters already, Umber Singh (Irrfan Khan) wants a son. So much so that when he gets a daughter instead, he declares to everyone that he has a son and this daughter doesn't even know that she's a girl. But then adolescence creeps upon her and she is to be married off. But what to do as the parents do realise what she is? What ensue are bids to protect their secret and the lengths they will go to do this.
While the film can at points be very intriguing and it's trying to raise awareness and compassion for refugees and gender discrimination, one can't help but feel the film to be confusing at points. The attention to period detail is meticulous and the cast's acting achieves great realism though.
Qissa has also won the NETPAC Award for World or International Asian Film Premiere at the 38th Toronto International Film Festival.
When Jews Were Funny (4/5)
Howie Mandel, Gilbert Gottfried, Rodney Dangerfield, Eugene Mirman | Directed by: Alan Zweig
Voted as the Best Canadian Film, When Jews Were Funny is an exploration of Jewish identity in North America and how much humour is a part of that.  Having grown up with that humour and missing what he feels may be dying, the director Alan Zweig traces the rise of Jews as comedians by either interviewing them or talking about them. He studies comedians throughout the different eras and generations. And though what ensue are many opportunities for laughter in this film, the documentary also serves to be thought provoking. It peeks into the vulnerabilities that Jewish people in North America have felt in their marginalisation from the beginning till even the 'Seinfeld era'. It also asks of the mainstream society how okay it is for one to not just be Jewish but also to incorporate the Jewish culture into a comedy show.
Funny and endearing, this film is not just about Zeig's rekindling of family memories as it fits in with the Ashkanazi Jewish culture of North America.  Rather, it is also about the continuation and celebration of that very humour.
Words and Pictures (4/5)
Juliette Binoche and Clive Owen | Directed by: Fred Schepisi
Words and Pictures is about the friendly intellectual competition between a visual artist Dina Delsanto (Juliette Binoche) and writer Jack Marcus (Clive Owen) who are both teachers in the school.  Delsanto's argument is: what's the need for words when you can say everything with pictures? Marcus' argument is: how would we know what needed to be done if there were no spoken words? With these arguments extending back and forth between the two teachers through the students and their confusion of what is the truth, the war between art and words is waged. Who will win?
Words and Pictures not only provokes intellectual debate but is also a must-see for those who are word lovers and believe in enhancing their English vocabulary. Marcus' struggle for motivating a generation that's been raised on SMS and IMs to become coherent communicators of concepts is cognisant of the struggle today's generation of parents and teachers have.  This film also speaks to the educational system's mindset for wiping out subjects that are not seen as professionally viable.
How Strange to be Named Federico: Scola narrates Fellini (5/5)
Directed by: Ettore Scola
No one does film like the Italians. Film, documentary and stage theatre are all interwoven in this pièce de résistance, which traces the life of Italian film Godfather Federico Fellini. Where one begins and the other ends, no one knows. But that's what makes it such a delight and a fitting tribute to the man. Filmed in modern black and white to give the period effect, the film has a light feel even though Fellini's beginnings were as a cartoon journalist from the heavier times of Il Duce and the fascist movement. But what is amazing ever more is how the director Ettore Scola succeeds in narrating his memories of Fellini with such wit and expressiveness and travelling between times. This is a film to be revered as a standard for filmmakers and film lovers for its originality and universality. Let's hope it makes it to Mumbai soon.
Bethlehem (3/5)
Tsahi Halevi, Sahdi Marei, Hisham Suliman | Directed by: Yuva Adler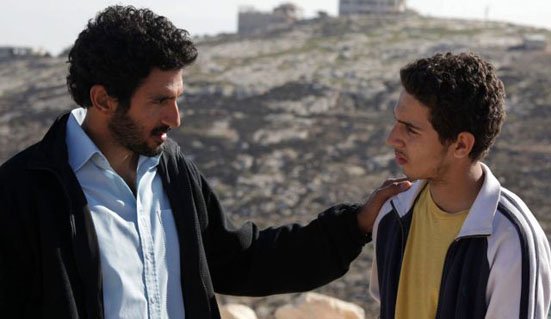 Bethlehem is not just the story of terrorism on the Gaza strip. It is also about a fatherly relationship between an Israeli secret agent Razi (Tsahi Halevi) and a young Palestinian boy Sanfur (Sahdi Marei) who's been recruited as an Israeli Secret Service (Shin Bet) informant when he was 15.  Unfortunately though, Sanfur's brother Ibrahim (Hisham Suliman) is a well-known terrorist whom the Secret Service is after.  Though they are from opposite sides of the border, the film portrays Razi's earnest idealism when the situation is anything but. He wants to extinguish fanatical flames with his humanness but can he do it with so much disturbance and hatred? Where do Sanfur's loyalties lie?
Based on extensive research between Israel and Palestine, Yuva Adler and journalist Ali Waked spent years trying to recreate the unfortunate political scenario on screen. The acting is amazing and the cinematography is breath taking. Through these lenses we too get a grip on life in the Gaza area.
The Animal Project (2/5)
Aaron Poole, Jacob Switzer | Directed by: Ingrid Veninger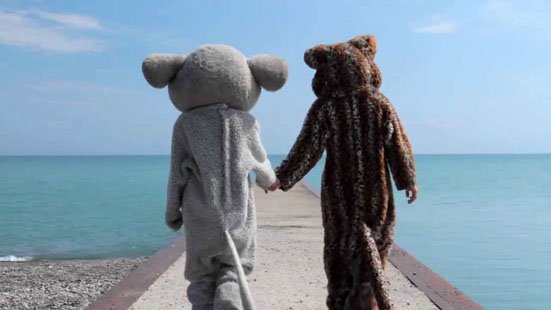 Leo (Aaron Poole) is a single parent and acting teacher who has a frustrating relationship with his son Sam (Jacob Switzer). He is also trying to motivate his students to push their art but initially meets with resistance from them. One day Leo watches one of Sam's older videos where he's voicing his views on different issues and giving away free hugs dressed in an animal costume.  Leo then pushes his students to dress up in such animal costumes to expand their minds. They do so but with different approaches. One set of students goes and gives balloons and coins to homeless people while another gives away free hugs and another makes a bunch of animal shaped balloons and another wears their costume to work. These efforts achieve interesting results.
As a theatre piece, this film would work fabulously but it falls a bit flat in the film medium. Though the main story is between Leo and Sam, the introduction of too many other storylines leaves it flailing. By the same token, it's great to see different places in Toronto with some established stars like Aaron Poole and Sarena Parmar (How to Be Indie). Given its set up, however, this film very obviously falls into a formulaic pattern for getting funded by so-called public bodies. And I don't know if that somehow restricted what seems like Veninger's free spirit.
Miss Violence (2/5)
Themis Panou, Eleni Roussinou, Reni Pittaki, Sissy Toumasi | Directed by: Alexandros Avranas
This year's City-City choice for TIFF has been Athens. And out of the Greek film selection comes Miss Violence.
When 11-year-old Angeliki commits suicide on her birthday, Child Services abounds with suspicion about why. Her family, however, is acting as though nothing has happened. Slowly, we see the fallacies of this Greek middle class family and the abuse that is pathologically hidden beneath a thin veneer.
While incestuous stories offer actors a great theatrical scope, from the viewer's perspective, it can be arduous to sit through because the festivals are flooded with dark cinema. It especially doesn't help that the minute details slow down the story so much. Though we can appreciate Avranas trying to create a suspenseful element, there is such a thing as too much detail. The acting is fantastic but the story drags too long.
The film won the Silver Lion at the 70th Venice International Film Festival.
Paradise (3/5)
Andrés Almeida, Daniela Rincón | Directed by: Mariana Chenillo
After being gossiped about for their body size at a party, Carmen (Daniela Rincon) decides to join a weight loss program. Her husband Alfred (Andres Almeida) joins her too. But while Alfred loses the weight, Carmen, in fact, keeps gaining weight because she's not sticking to the diet and doesn't exercise. And she doesn't tell anyone that she's not following the diet though Alfred is supportive of her. If anything, she binges on junk food and joins a cooking class where she's learning to make fattening dishes and indulges in them too. Consequently, her weight gain leads her to feel embarrassed about not fitting in her clothes and then she starts avoiding going out in public with Alfred.
Alfred, on the other hand, has a job where he needs to be social as part of the busy life in Mexico City. This therein starts leading to more emotional distances between the couple until their paths seem like they're diverging. Can their love be bound?
This film was a great relief to the mind. It was a down to earth portrayal of a situation that anyone could face. It shows how intimidating weight loss can be and how changing a lifestyle is not so easy and how figure-obsessed our society is. The acting and directing are all very natural.
American Dreams in China (4/5)
Huang Xiaoming, Deng Chao, Tong Dawei, Du Juan | Directed by: Peter Ho-Sun Chan
This film is basically a combination of the film 3 Idiots married to The Social Network and beyond because it spans a long time period. If there was any film that got my adrenaline racing during this festival, this was the one. The story starts off in the 1980s in Beijing, China. Three friends Meng (Deng Chao), Wang (Tong Dawei) and Cheng (Huang Xiaoming) are friends who apply for visas to study in the U.S.  While Wang and Cheng's visas are rejected, Meng ends up going to America to study.  Wang and Cheng stay back and start a venture, which the three had earlier wished to start: a unique way of teaching English to Chinese students.
They face many barriers but with their wit and out-of-the-box thinking, the humble business grows into one with thousands of students.  In the meantime, Meng has a rigorous research life while also having to work odd jobs where he's treated very shabbily. Eventually, Meng ends up returning to China because his supervisor replaces him with a cheaper Chinese junior research assistant. He then partners with Wang and Cheng and starts a division for visa consulting and tackling interviews for getting visas for the U.S.  The business grows but then differing ideologies emerge between the friends. And at this point, it seems best that the boys go off along on their different paths. But just as they think so, a U.S. copyright violation case stares them down when they least expect it to. Can they come together to fight this battle or will they stand defeated in isolation of one another?
This film will resound with Indians because our issues are so similar. Meng's struggles in America are so cognisant of what the NRI goes through between finance and discrimination. Simultaneously, Indians too have the issue of there being limited opportunities in rural areas, political struggles, competition and corruption. Cheng's innovation also speaks to how it's not always the academically bright ones that professionally succeed. It's the ones that can slither around the system and take a risk. Because as Cheng says in the film, "The only worse thing you can do than avoiding failure is to not do anything at all."
A Grand Seduction (3/5)
Brendon Gleeson, Taylor Kitsch, Mark Critch, Mary Walsh, Gordon Pinsent | Directed by: Don McKellar
Goodness knows how difficult it is to attract doctors in rural Newfoundland. But harder still is it to keep them. A Grand Seduction is a comical and human take on what has normally been a Prozac-demanding issue for the last 20 years in Newfoundland. Newfoundland is a small province in Canada and due to over-fishing, many fishermen were put out of work and many families were forced to relocate from their towns in search of jobs. And for many, it is unlikely that they would be able to get work in another place.
For others still, it is an issue about the love of your community and wanting to see it thrive again.  News then comes out about the possibility of a factory coming up. But there's one condition attached: the community requires a doctor. This then sets the community members on a rampage to pull all kinds of stunts to attract and keep a doctor from New York (Taylor Kitsch).
The question is however, how far can the community's lies take them? A hilarious form of presentation, A Grand Seduction is an adaptation of a French film. But its theme could not be more relevant for an industrial society faced with market collapse, environmental misuse and loss of community. The humour, of course, is culture specific but it does convey the point overall. Maybe one day, its festival acclaim will inspire Canadian policymakers to watch the film and do something about the farce they've created.
 Press Conferences and WINNERS LIST here
Read the 1st Set of Film Reviews (including The Lunchbox and The Invisible Woman) from TIFF 2013 here.
Read the 2nd Set of Film Reviews (including Gravity and Mandela: Long Walk To Freedom) from TIFF 2013 here  
Read the 4th set of Film Reviews (including Shuddh Desi Romance and The Love Punch) from TIFF 2013 here)