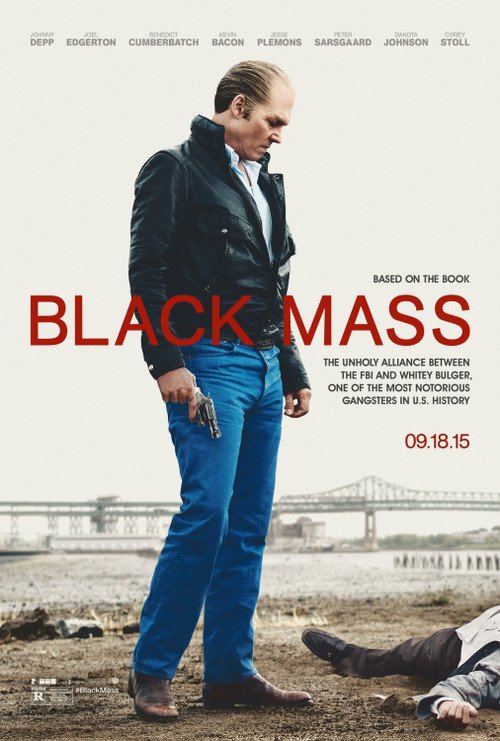 <Review by: Sailesh Ghelani>
Directed by Scott Cooper. Starring Johnny Depp, Joel Edgerton, Benedict Cumberbatch, Jesse Plemons, Dakota Johnson, Kevin Bacon, Peter Sarsgaard, David Harbour, Julianne Nicholson, Rory Cochrane, Corey Stoll
Running Time: 122 minutes
What's the Black Mass? Well the film is about South Boston, which is in Massachusetts, USA and so Mass is an abbreviation. Oh and it's a true story based on a book. Just to get that out of the way.
And it's black because Black Mass shows us the seedy side of a not-so-nice neighbourhood in Boston, endearingly called Southie by the gangsters and crime lords who run racketeering, prostitution and gambling businesses in the area.
If you want to see Johnny Depp in a slightly different sort of role from the usual weirdness that he plays then this is the film. Sure the make up and scary contact lenses make him look like an alien but his performance as 70s crime lord James 'Whitey' Bulger is pretty chilling.
Thugs with pock marked faces abound, mouthing 'fuck you' and 'motherfucker' throughout the film as we're introduced to some other characters. Like Joel Edgerton's John Connolly, an FBI agent who used to hang out with Whitey in his youth and now has a mandate to clean up South Boston's mafia. But he wants to enlist Whitey to inform the FBI on the goings-on of the hood and turn a bling eye to Whitey's own nefarious dealings. But there are some at the Bureau who aren't too pleased about this.
Whitey has a methodical and ruthless way of functioning, even when it comes to dealing with the woman he has a son with. Contrast this with Connolly's jovial manner and you have an interesting dynamic. But soon things get too hot for all the players involved including Whitey's brother Bill who is a State Senator. That isn't easy for him.
Black Mass isn't unique in any way from most other gangster films but what it does have is a series of very tense and well-shot scenes that ramp up the adrenaline. Like the one where Whitey asks for an FBI agent's secret recipe for steak and then coldly chastises him for giving up the secret so easily only to put a twist at the end. Also when Whitey decides to visit Connolly's wife's bedroom, where she is hidden away from the dark dealings, you shudder to think what he'll do to her. In another scene, Whitey strangles a girl he thinks will snitch on them but you can only hear her gasping for breath. It's what you don't see happen that gets to you.
Black Mass could have been a tad shorter but in an attempt to chronologically detail what actually happened – complete with telling you what happened to all the characters and where they are now – the film does gain in time. It's subtle and interestingly done though with the censors in India allowing some 'motherfuckers' to be mentioned while cutting out other 'motherfuckers'!