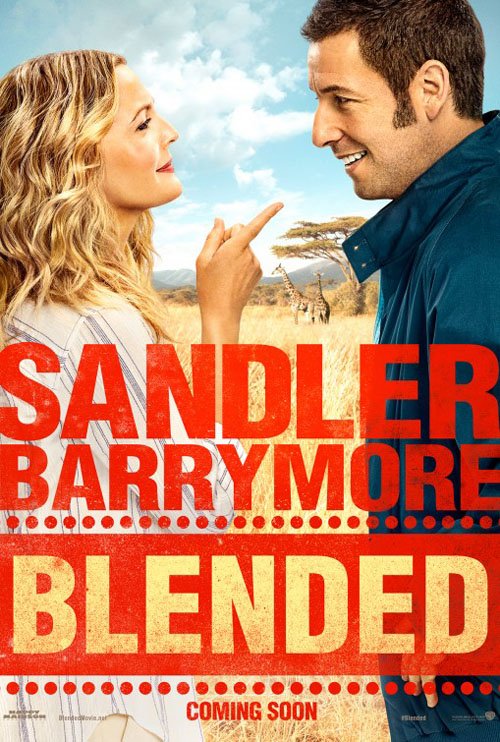 <Review by: Sailesh Ghelani>
Directed by Frank Coraci. Starring Adam Sandler, Drew Barrymore, Bella Thorne, Terry Crews, Wendi McLendon-Covey, Kevin Nealon, Kyle Red Silverstein, Shaquille O'Neal, Dan Patrick, Bella Thorne, Braxton Beckham, Jessica Lowe, Emma Fuhrmann, Alyvia Alyn Lind, Lauren Lapkus, Abdoulaye N'Gom
You know exactly what to expect when you go for an Adam Sandler produced movie. The toilet humour, the crude and sometimes sexist jokes, the racial stereotyping and the… family values! Blended is all of these.
In true Adam Sandler style, the movie blended combines loads of vulgar slapstick and ick-inducing situations but his penchant for 'family' and the emotions that are played out between parents and children keep you from totally hating Blended.
The first 20 minutes of this film are pretty bad. You're going to be wondering how you will get through another hour and forty minutes. But surprisingly, I did.
Jim (Adam Sandler) and Lauren (Drew Barrymore) are on a blind date at Hooters, which after learning the venue you'll know isn't going very well. Some crass jokes, a yucky goop of onion soup all over Lauren's face and 'school vice-principal' outfit are enough to guarantee that neither of the single parents will want to meet each other ever again.
Lauren goes back to her job as a Closet Queen (no, she's not a lesbian) with her close pal Jen (Wendi McLendon-Covey) who is going out with Jim's boss Dick who plans to take her on a luxury trip to South Africa. But Jen chickens out since she's not ready to be part of team Dick (and his five children). Circumstance brings Jim and Lauren back in the same room and fate gets them half price tickets to South Africa on the trip Jen and Dick won't be taking. And so Jim and his three sons… oh sorry, daughters and Lauren with her two sons end up on an adventure. And this is when the film starts getting moderately bearable.
A lot of critics have complained that Blended and Adam Sandler's production company, the writers and director have all sold their souls with this film. They have propogated stereotypes of black people, dug a grave for feminism and have just alienated themselves from the common man. I think they take themselves too seriously. Blended is a bad film but one that still has a heart somewhere under that slapstick sludge that Sandler is so fond of.
The film is primarily about what's always dear to Sandler in his films: family. The loss of his wife in the film and his inability to relate to his daughters being the relatively macho man that he is provides the entry point for Lauren who is dealing with an ex-husband who is never around for their boys' baseball practise or other 'manly' outings. That's where the whole sexism thing comes in. Do boys need a father to teach them how to swing a bat and do girls need a mommy to dress them up to get the boys?
Blended pretty much answers a resounding yes to the above questions and the kids play a pivotal role in romance. Barrymore and Sandler have worked together on 50 First Dates and share an onscreen ease but not that much chemistry. Still, you'll be hardpressed not to tear up a bit when Lauren sings 'Somewhere over the rainbow' to one of Jim's daughters. And you'll grimace and giggle simultaneously at the off-coloured humour and slapstick.
Blended deserves one star for being predictable and badly made but it gets two because it makes you laugh at the sincerely weird characters and even shed a tear for some of the poignant moments.