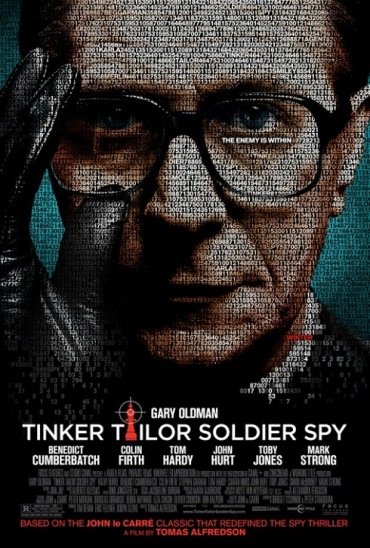 <Review by: Sailesh Ghelani>
Directed by Tomas Alfredson. Starring Gary Oldman, Colin Firth, Tom Hardy, Mark Strong, John Hurt, Ciarán Hinds, Toby Jones, Benedict Cumberbatch.

Two films about Brit sleuthing this week, Tinker Tailor and Sherlock Holmes: A Game of Shadows, both very long films and neither particularly spectacular. One more cerebral and the other more flippant. No guesses for which is which.
Yes it's based on John le Carré's popular novel by the same name. Deemed one of the most intriguing spy stories, the novel has been adapted for the screen and directed by Let The Right One In's Tomas Alfredson. Murk and murmur abound in this period piece about the Cold War, British Intelligence and double agents. But this is not James Bond or Mission Impossible: Ghost Protocol. There are no gadgets, barely any action or CGI, and very little by way of thrills.

The British Intelligence has a mole, but Control (John Hurt) in an effort to weed out the double agent gets fired along with his trusted ally George Smiley (Gary Oldman) leaving a group of four senior agents at the helm but one of them is probably the mole. Retired Control enlists an agent played by Mark Strong to go undercover in Hungary but the mission goes wrong. The British Government then asks Smiley to conduct an undercover operation to determine who the traitor within their midst really is. He along with Peter Guillam (Benedict Cumberbatch) and suspected traitor Ricki Tarr (Tom Hardy) must untangle the web of deceit and treachery that have been playing out.

Staying true to the times when leg work and brain work were the order of the day (instead of hopping on jets and using computers and retinal scanners), Tinker Tailor Soldier Spy unfolds at meticulous if slothful pace with short, slow scenes set against grey backgrounds and plenty of whispering between characters. There's a bit of adultery, a love affair between enemy agents and even a gay angle. But it's all too superficial, too bland and lost amid the intricate plot.

Oldman's silent hero seems almost antiquated even for the time compared to his savvy suspects but he does get the job done. Flashbacks take us to times when the characters worked and played without the shadow of suspicion hanging over their heads but give Oldman's Smiley important clues. He also has to deal with the painful truth of his wife's affair with one of his colleagues.

A mysterious musical score by Alberto Iglesias keeps the intrigue going but you can't help but lose interest in the whole thing, the inertia of the characters and lack of momentum or build up keeping you just at one static level.