Some People Are Gay. Get Over It!
<Report by: Sailesh Ghelani>
India's mainstream and South Asia's largest LGBT festival kicked off last week with it's seventh edition: 7 Shades of Love.
Most people abroad are surprised when I tell them I attended this festival. The perception with Section 377 still hanging over the LGBT community leads to people around the world thinking that just being gay in India is a crime. Which isn't the case. It's the actual act of sex between two men that is punishable by law. The shadow it casts over the community, which is then vulnerable to blackmail and harassment is what makes it so detestable.
Yes, India has a gay film festival, which is held openly and proudly. Gay parties and events happen all the time in the major metros of India.
The festival showcased 182 films from 53 countries (including 27 films from India) at three separate venues: Liberty Cinema, Alliance Francaise de Bombay and Max Mueller Bhavan, over five days.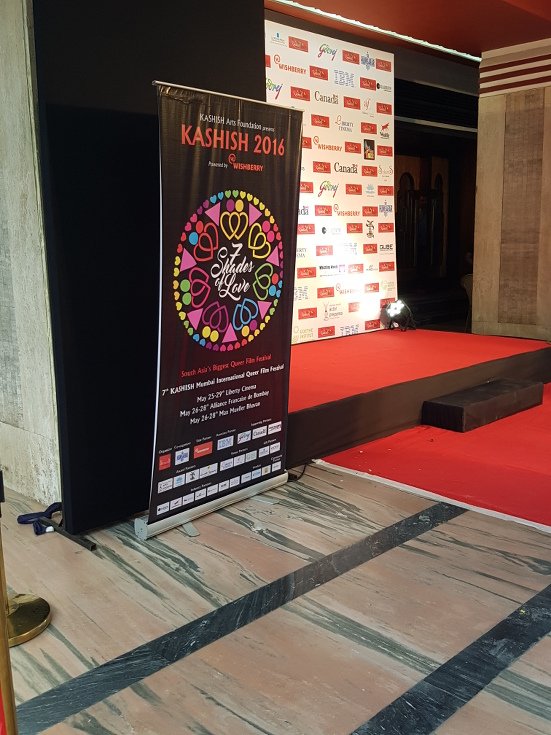 And this year it was glitzier and better than ever with big stars opening the festival and top quality films being featured. A big hand to the selection jury for picking such interesting films with varied themes. The last few years have seen some not-so-great features being screened. But this year, I liked most of the movies and short films I watched at Kashish.
Bollywood actors Sonam Kapoor and Kunal Kapoor and Hollywood star Ian McKellen launched the festival at the inauguration. That such huge celebrities are joining together to bring awareness to such events is a major achievement for the festival, now in its seventh successful year. "On my first visit to Mumbai, I am very pleased to attend the opening night of the Kashish 2016 Festival," said McKellen.
"For too many years, gay characters appeared in films only as comic relief, as often as not meeting a sticky end, as if that's all they deserved. Increasingly, in India too, the film industry has matured, treating gay people with the same seriousness as straight characters.  I look forward at KASHISH to discovering more about Bollywood's film-makers who reject fantasy for the truth about gay people," added McKellen.
"Kashish is a wonderful opportunity that brings together talented filmmakers and the society together on a platform that advocates change in mindsets. Movies have immense power to influence people and bring about change. Every person in India is guaranteed equality and right to life and liberty, which includes the right to love a person of one's choice, irrespective of sex or gender. The universal language that moves the world is that of love and Hindi films from its very beginnings have portrayed love in its many forms and shades. It's time for the society to speak out against the law that criminalises people for who they love and restore them with the dignity that they deserve," said actor Sonam Kapoor.
What I saw at the event was a mix of great performances by singers and drag queens and boys in high heels! And as the special guests put it, 'We've never seen a film festival as high on energy as this one,' Kashish was indeed a fun experience.
Above all that was the fact that there were so many Indian films that were high on production values and acting. The cast and crew of the films spoke about their creations and received a deserved standing ovation for what they showcased. It would be great to see these films screened at regular theatres.
Read about the Wonderful Films we saw at the Kashish Film Festival here.
 Sir Ian McKellen arriving at the Opening Ceremony:

What's also encouraging is that the festival is supported by crowd funding (Wishberry.in) as well as corporate sponsorship and partners like IBM, Godrej and several other big names.
Watch this video of one of the performances at the closing night:

Photos of the event and the people who made it glamorous: