The world's first commercial Stand Mixer that began its life as KitchenAid in 1919 was created by the innovator Herbert Johnston and decades later its almost unchanged design is considered a beautiful workhorse and an essential in every 'master chef's' kitchen.
Regional Director Mohit Jain addressed an audience of food bloggers and home chefs: "Our stand mixer was inspired and made for bakers. Nine out of 10 chefs in the US would own one of our products if not more."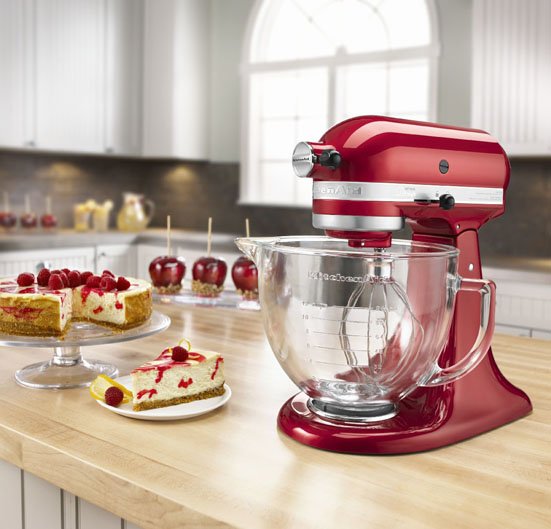 A stand mixer, you say! Yes indeed. It's as shiny and striking as those fancy espresso machines you find at high-end retail outlets. Yes, the pricy ones for those of you who like your baked products turning out fluffy, airy and light.
Of course Americans have had this brand, now owned by the Whirlpool Corporation, for over 90 years but in India KitchenAid has been officially launched in August 2013 at the Grand Hyatt Hotel, Mumbai with a promise to customers of premium quality and service – the latter part being extremely important considering these beauties cost upwards of Rs. 39,000 depending on the colour.
Yes, apart from the special edition (available at a future date) Chrome colour they gifted celebrity chef Vicky Ratnani at the event the sturdy 'Artisan Tilt-head Stand Mixer' is available in other colours: Candy Apple, Frosted Pearl, Tangerine, White, Onyx Black, Raspberry Ice, Pink and Empire Red. The colours will be introduced over a period of time.
The flagship product of KitchenAid, the Stand Mixer has a 59-Point Planetary Mixing Action, which means it has incredible bowl coverage for thorough mixing using the beater, dough hook or wire whisk.
Apart from those attachments, the mixer comes with a myriad of attachments, testament to its timeless adaptability and versatility. You can make ice cream, slice vegetables, roll fresh pasta, juice fruit or grind meat with it. Additional attachments like the pasta roller are sold separately though.
"It's the best selling stand mixer in the world. It is the number one product on bridal registries in America. We recently launched a food processor in Australia at a $1000 dollar price point and we were sold out in the first few weeks. It was driven by the fact that a lot of consumer insight that goes into developing the product. Simple things that are thought through to make your life easier," says Mohit Jain, Regional Director for KitchenAid.
Chefs Hanisha Singh of My Little Food Company (MLFC) and Vicky Ratnani of Nido demonstrated the KitchenAid wonder gizmos.
Using the Stand Mixer Chef Hanisha says, "It's wonderful to save time. It mixes or blends while you're doing something else. You have up to 10 different speed settings. You don't have to exercise your arms, it does all the work for you," Chef Hanisha demonstrates.
Chef Hanisha then made berry slushies and cold coffee using the KitchenAid Cordless Hand Blender that looked like a very powerful and futuristic piece of hardware in its almost James Bond-like carrying case packed with accessories. At Rs. 19,990 its worth the cost with its rechargeable battery and slew of uses from crushing ice, pureeing soup, blending and chopping.
NIDO Chef Vickey Ratnani put his passion for cooking into the preparation of a delectable focaccia bread that was tasted by the audience of young and not-so-young bloggers and 'passionate gourmets', as KitchenAid likes to call them.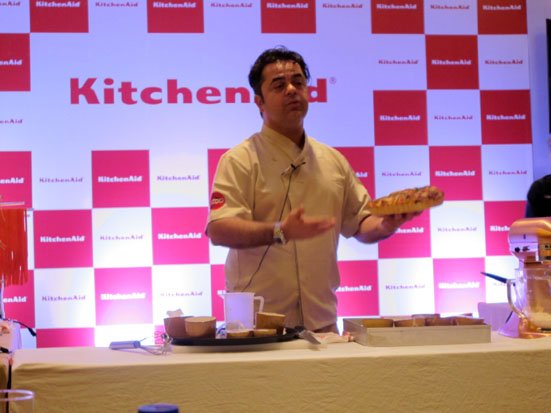 "When you are blending with one hand and trying to put the egg in with the other you are doing so many things at the same time. If you are not doing at least four things at a time that means you're not busy. The great thing about the KitchenAid is that it does the work perfectly by itself and I could be doing something else like chopping vegetables for my topping since both my hands are free. It's a very integral part of the system. I spend all my money on kitchen equipment," says Chef Vicky as he prepares the focaccia dough.
Check out our Video with highlights from the KitchenAid India Launch Event here:

The MC of the event, food reviewer and former professional chef Rupali Dean, called audience members to use the Stand Mixer to roll and splice pasta and the Cordless Hand Blender to crush an ice slushy. Certainly an inventive way to promote what is essentially a glam kitchen appliance. Chefs swear by it so who are we to argue with the price tag.
Well there was the question of after sales service and the company plans to back up its sales with a service centre in Delhi to start off with and will hopefully follow it up with centres in all the cities they're selling since throwing away a Rs 40,000 mixer seems a bit 'dough!!' A crowd-pleasing one-year replacement guarantee should set your mind at ease though.
KitchenAid Cookware will be available next year and the whole shebang of professional kitchen equipment (now also for the expert home cook, thanks to shows like MasterChef Australia) retail at Foodhall and select E-Zone outlets.
"We have been told that we don't launch products fast enough. But we've changed that now. If we come up with a new product then we give it to chefs to use for a year and found the things that really bothered them. Like rivets inside the cookware, which makes it difficult to clean. So details like that tend to delay new products but we like to get it right," explains Mohit Jain.
Video with highlights from the KitchenAid India Launch Event
KitchenAid Website: http://www.kitchenaid.com/