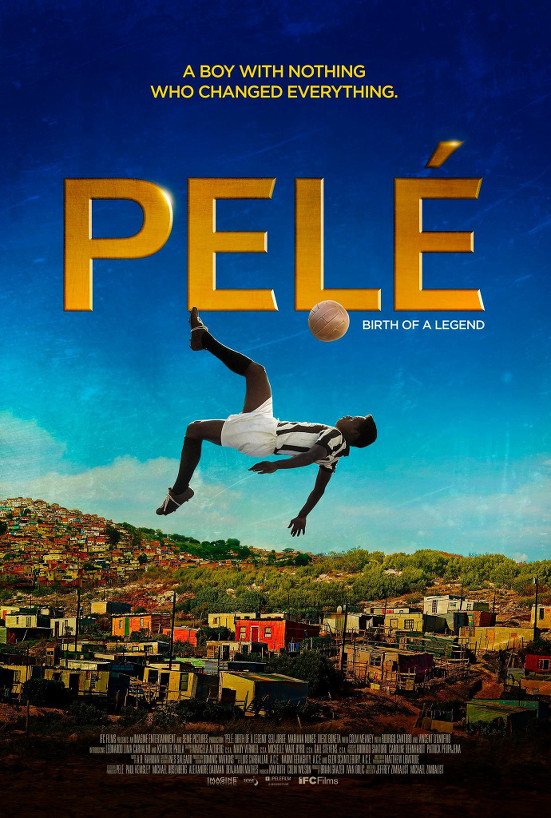 <Review by: Sailesh Ghelani>
Directed by Jeff Zimbalist & Michael Zimbalist. Starring Kevin de Paula, Leondardo Lima Carvalho, Seu Jorge, Diego Boneta, Vincent D'Onofrio, Colm Meaney, Mariana Nunes, Rodrigo Santoro
Running Time: 1 hour 47 minutes
If you're a fan of those regular Hollywood 'sports films' then you may not like Pele: Birth of a Legend, but if you want to watch an insightful and beautiful movie about how one of the greatest football players came to be, then you'll love it.
I don't want to watch a film showing me people playing football. It's a biopic and what I want to see is how a great player becomes a legend. What are the influences in his life, what shaped her destiny, what turn of events inspired this person to be themselves and just go for it? This is what Pele: Birth of a Legend tells us about the famous football player Edson 'Pelé' Arantes do Nascimento (lovingly called Dico).
I love that it's not a 'sports' film. It's a film about a boy who played football with his heart and who had a dream that was propelled in part by his supportive father Dondinho (Seu Jorge) a great sportsman himself and his mother Celeste (Mariana Nunes) who initially wanted him to study and stay out of trouble i.e. playing football with his little friends who would steal peanuts to buy football boots.
The pace in the first half is languid and intimate. You get to know this young man and watch him practising his moves with mangoes. His father helps him hone his skills and a talent scout tells him the history behind the 'ginga' technique of fighting in Brazil that was outlawed but found its way on to the football field. This technique is what the young man loves to emulate but is restricted by coaches who want the Brazillian team to emulate the Western teams. Until of course they see the magic that is Pele.
The second half focuses on play as the team head for the World Cup in Sweden trying to make up for their country's past devastating losses. Some deft choreography joins the already stunning cinematography with lovely camera movements on the field of play, some slo-mo and stirring music by AR Rahman who has created a brilliant score to emphasise the moods of the film. I love the fact that those 'ginga' techniques shine through and it's not just players passing balls amidst chaotic camera movements and blurry play. Each shot is set up masterfully and you can see the brilliance of them and of Pele and his team.
You can't fault the film really for accuracy since the 'real' Pele is one of the producers and also makes a cameo in the movie. It's a sports film unlike most others and will appeal to viewers who may not be fans of football or Pele but simply admirers of great stories of legendary people.