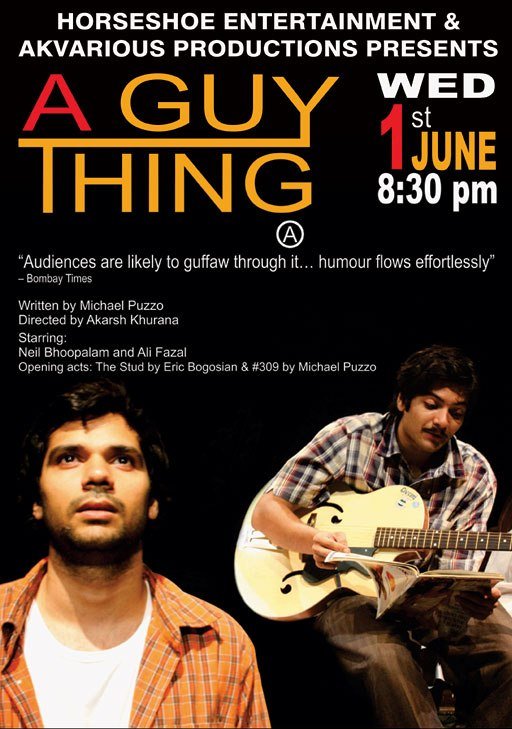 Directed by Akarsh Kurana. Ali Fazal, Neil Bhoopalam.

Watched this one at The Comedy Store, Mumbai, where the intimate free seating arrangement and tiny stage was the perfect setting for this two-man show. Ladies and gentlemen, please find yourself a seat, the show will begin in five minutes. Five minutes ladies and gentlemen. Girls dressed for a night out and boys dressed for a basketball game trooped in with their drinks (careful now, with the new law, only 25 year-olds can get tipsy) and plates of yummy pizza and wraps. But before the feature presentation, the audience was treated to some 'opening acts'. A good practise by the club to promote young talent. Both of the 'skits' were funny and intelligently written, the first one about two geeks arguing over superheroes in a comic book store and the second about a salesman using 'terror' tactics to sell insurance.

The play then begins. The scene is what would resemble an American-style log cabin complete with a stag's head mounted on the wall. Mitch (Bhoopalam) and Lino (Fazal) enter the scene looking frazzled and damp from the pouring rain. A flooded engine and downed phone lines mean they're stuck together for a bit. Something Mitch ain't too thrilled about.

At first you wonder whether the two are friends, then you think maybe they've just met. But the story unfolds delicately and you soon realise what's behind this strange relationship. Mitch is your average Joe, coming out of breakup with his girlfriend of five years. His father has never really treated him like a man and Mitch's self-realisation during the course of the hour leads him to conclude that he wasn't 'da man' even with his girlfriend. But then Lino's sensitivity coupled with the not-so-orthodox circumstances which lead him to Mitch make him the agony aunt of the situation.

Relationships, online sex and penis and breast sizes are pondered over, discussed or just left out on the table to give you a clearer picture of Mitch's psyche. Bhoopalam plays the 'dude' with a sensitive side nicely. His is the main part though Fazal's role is clearly the more difficult one. Almost in the background — or rather sent to the corner to stand behind a dresser — he is the humorous foil to Bhoopalam's serious and sometimes sardonic character. Fazal carries off camp and witty perfectly. If I say any more about the character or plot I'd probably ruin it for you.

A Guy Thing is based on an off-Broadway play called The Dirty Talk by Michael Puzzo.