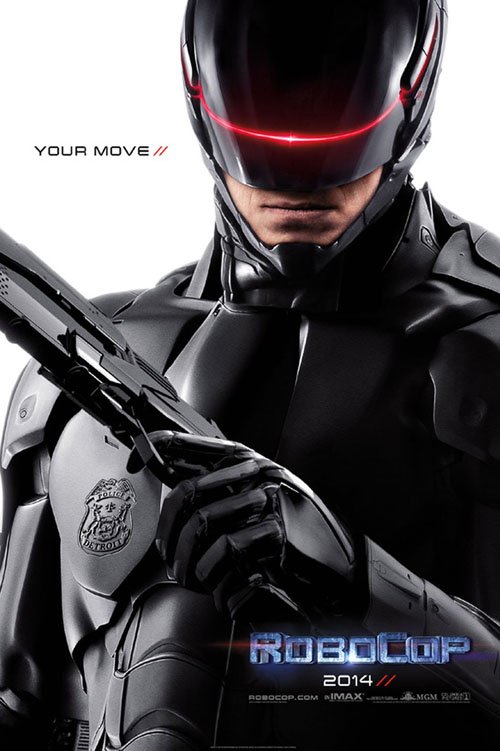 <Review by: Sailesh Ghelani>
Directed by José Padilha. Starring Joel Kinnaman, Michael Keaton, Gary Oldman, Samuel L Jackson, Abbie Cornish, Jackie Earle Haley, Jay Baruchel
With great expectations come great disappointments so if you're a fan of the original movie, don't go expecting much.
What I expected
I wasn't a huge fan of the RoboCop films but the original RoboCop directed by Paul Verhoeven was a cult movie for most growing up in the 80s. Violent, gritty, fun, futuristic and full of action, robots and shoot-em-up scenes, RoboCop was an intense experience and Peter Weller played the part of Alex Murphy with the right balance of pathos and wit.
Did I get what I expected?
At first I thought maybe but as the movie wore on I became more disenchanted with it. The director and writers have claimed that they had to 're-imagine' RoboCop in a new day and age since the original would not fit in to our design schematic of what the future would be. So you get a RoboCop suit in black that looks like a generic 'suit' worn by perhaps a battling Starship Trooper or a space walk on Star Trek. A boring Alex Murphy played by Joel Kinnaman who is luckily supported by an experienced cast of top class actors like Gary Oldman, Michael Keaton and Samuel L Jackson.
What I liked
I loved the scenes where the show a disembodied Detective Alex Murphy with just the head and upper torso organs. They could have used that to better scary effect.
Bringing contemporary issues like the American occupation of countries abroad and the charade that TV news sometimes makes of everything with Samuel L Jackson's hilarious TV news anchor Pat Novak.
"Dead or alive, you're coming with me!" Yes they did remember at least one of the lines from the cult film and have used it but have sadly forgotten all the wonderful things RoboCop did in that film.
What I loathed
The lack of a great villain, the toning down of violence to get a PG 13 rating, the action scenes look like you're playing a first person shooter video game and there's no great RoboCop suit or voice. He's boring and does nothing of significance during the entire film.
What is the plot for the bad guy Raymond Sellars played by Michael Keaton? Even in the end we don't really know if there was a grand scheme and the showdown between good cop and bad guy is woefully anticlimactic.
In true new Spider-Man style, RoboCop actor Joel Kinnaman gets to show his face for most of the movie (unlike Peter Weller in the original) with ingeniously unimaginative ways of damaging his visor to reveal his face.
Minority Verdict
Sadly, RoboCop fails to capture any of the grit and fun of the original movie and neither does it make for a particularly great film on its own.
PS: Enter our RoboCop Poster Contest and win some awesome theatre-quality posters from the film here.