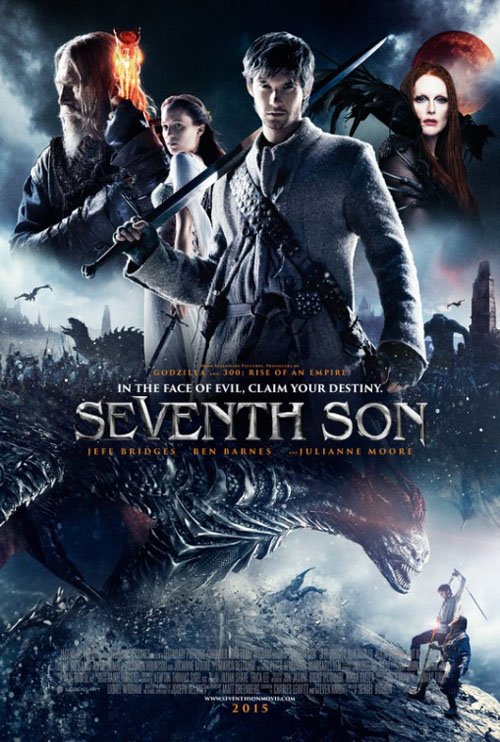 <Review by: Sailesh Ghelani>
Directed by Sergei Bodrov. Starring Jeff Bridges, Julianne Moore, Ben Barnes, Alicia Vikander, Olivia Williams, Antje Traue, Djimon Hounsou, Kit Harrington
The only thing redeeming about this film is that I yawned less in it than I did in the Oscar-nominated Foxcatcher!
Another formula fantasy film and lots of clichés and poor CGI coupled with below-average acting make Seventh Son a less than magical evening out.
Seventh Son has been waiting to release for two years now due to postproduction problems.
Despite having an Oscar-nominated director (Bodrov) at the helm and some decent acting talent, the film just never gets out of that formula fantasy B-movie territory. At times you wonder if they haven't aimed for that 80s feel to give us a bit of nostalgia. Doesn't work though.
Jeff Bridges is Master Gregory – a 'spook' witch hunter – who long time ago captured and imprisoned the Queen of witches, Mother Malkin (Julianne Moore) but she gets out to wreck havoc and extract revenge with her band of magical minions. Gregory had an apprentice who died trying to recapture her and finds another in Tom Ward (Ben Barnes), the seventh son of the seventh son who has visions of his destiny and upcoming mission with the Master.
Those visions accompanied by shaking and sometimes fainting disappears through the course of the movie playing absolutely no important role. In fact, the last time he gets one he doesn't shake or faint.
And what the hell is happening with Jeff Bridges' voice. He sounded like Yoda with marbles in his mouth! Yes we know you have a distinctive baritone Mr Bridges but it was somewhat incoherent don't you think?
Julianne Moore was done up in black fathers and mascara and looked positively C-grade. Her acting was pretty shaky too. Tom Ward's love interest and half-witch Alice (Alicia Vikander) was all right but failed to stir up any chemistry with her boy wonder. In the second half the film does pick up a bit with a fight scene but we don't really have any investment in the story or the characters to care much.
Seventh Son could have been interesting had the makers put in some more effort in the story and the characters rather than the 3D and the Imax.
PS: One or two of the twists in the movie were interesting and saved the film from getting the worst rating of one star.