Our correspondent, Swati Sharan, covers the Toronto International Film Festival 2017. Here are some films that stood out for her.  Interviews soon. 
Long-Time Running
Directed by: Jennifer Baichwal and Nicholas de Pencier
4/5
Long-Time Running is about a downturn that rocked a nation's soul. For over 30 years, the all-Canadian band The Tragically Hip was an extremely commercially successful band in Canada. Their downfall came when its lead singer, Gord Downie, was diagnosed with brain cancer. But it was his wish that, inspite of the illness, the band go through with an impending grand tour across Canada as a finale. The film then traces this tour behind the scenes knowing how much a hallmark of Canadian music history this will become.
There are many Canadians who wonder if they have the heart to watch this film because of Downie's illness. My answer is yes because the filmmakers chose not to dwell on the sad aspects. They've chosen to largely focus on the tour itself and the band's travails doing it given there is an illness they have to watch out for. It is both an individual and group's attempt to normalise a situation that is anything but. What comes out of it all is Downie's indomitable spirit and proof that individual willpower transcends all else.
One of Us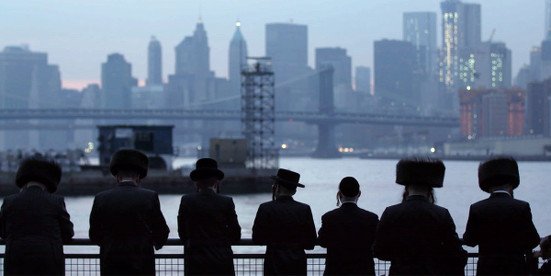 Directed by: Heidi Ewing and Rachel Grady
4/5
Hasidic Jews are a Jewish religious group. Many of them migrated from Europe to New York around the period of the Holocaust. As an outcome of their harsh circumstances, they tried to isolate their community members with society at large with some very tight rules so as to preserve themselves as a group. They designed their community living such that their members are not able to partake in mainstream society. By doing so, they are able to keep their members pegged down. This includes everything from not having a modern skill base to financially survive to people not being allowed to use the internet or cell phones. Even education as per American standards is very limited for their youth. On the same token, the community is very helpful, so physical survival is made possible without the skills of the marketplace. Unfortunately, if someone tries to deviate from the rules, the individual is heavily ostracised.
The film therein documents the cases of three individuals who have broken away from this community through the help of an organisation called Footsteps. One is Luzer who is an aspiring actor who was forced to leave his family behind so that he could pursue his dreams. The other is Ari who was raped and abused by a camp counsellor. The third is Etty who filed for divorce and child custody after years of suffering from domestic abuse. In her case, the community and her family have collectively sided with her husband and ganged up against her for her stand. So the film ultimately portrays the extreme consequences individuals leaving such an insular group face in wake of a modern America.
The film is very powerful and compelling. It is also very engaging and well paced. It makes one question many things. In the face of global financial meltdowns and manipulations, marketplace survival has become very important. So the idea that a community can survive well outside this seems like a good thing. And as we are seeing some parents finding it challenging to keep their kids from getting addicted to video games and internet and make them more personable, the message of kids not using these doesn't seem like such a bad thing. But put in context, if you frame people not using these modern facilities as an edict, it is very disturbing. It also feels disturbing when individuals don't get to decide how they're going to live and what they should be doing. So the film is definitely presenting a case for personal liberties vs. community support. It is also showing a modern scenario of how access to the internet may keep such types of communities from holding their people with a tight leash.
I Kill Giants
Directed by: Anders Walters. Starring: Madison Wolfe, Zoe Saldana, Imogen Poots
3/5
Barbara (Wolfe) is an eccentric young girl who is on a quest to rescue everyone from giants of the mythical kind. She is bullied immensely in school for her uniqueness and she is lives with the absence of her parents. Barbara and her brothers are being raised by her sister Karen (Poots). As Barbara keeps acting out by delving further and further into her imaginary world, her psychologist Mrs. Molle (Saldana) takes it upon herself to get to the bottom of why.
Based on a graphic novel, this pre-adolescent movie is very familiar territory. It reminds one of A Monster's Call except the former was way more impacting. This film does, however, successfully address the issue of bullying in school for anyone who doesn't conform to the so-called norms. Wolfe has portrayed her character outstandingly and brought her to life vividly. The film is suitable for kids between 10-14.
The Breadwinner
Directed by: Nora Twomey
4/5
This animated feature is based on the first of The Breadwinner series by Canadian writer Deborah Ellis. The film is set in Kabul during the late 90s during the reign of the Taliban. Parvana's father has been unfairly imprisoned and girls are not allowed to go out on their own and work. So eleven-year-old Parvana cuts her hair off and pretends to be a boy and supports her family. As her family misses her father, Parvana tells a bedtime story every night. Now the question is, how does she get her father back?
The film is a richly crafted piece of animation with beautifully inspired Afghan art woven into some of its story vignettes, which Parvana is seen telling as part of a long bedtime story. Many liberties have been taken with the story when compared with the book, but the essence is the same. Ellis was trying to show kids what it was like for young girls trying to survive during the Taliban period in Afghanistan. This film was co-produced by Angelina Jolie and is every bit the winner.
Azmaish: A Journey Through the Subcontinent
Directed by: Sabiha Sumar. Featuring Kalki Koechlin
3/5
Azmaish evaluates the rising levels of religious fundamentalism in India and Pakistan. Accompanied by Bollywood star Kalki Koechlin, Sumar goes around interviewing different pockets of people in the varying parts of both countries to get their opinions. Though it is hard for people to draw conclusions on a topic so comprehensive, some themes do play out. Some of it is about social inequities, inaccessible educational opportunities, lack of regional development, a sense of an insecure identity and regressive social practices in the name of one's religion. In examining the different reasons, people are then wondering where things may be headed in both nations in light of this religious fundamentalism on both sides.
For those in the academic sphere, the film may not speak to you in the same way because the methodology for conducting sociological research is vastly different from what's presented in the film. And that is because Sabiha and Kalki's team set out on a comprehensive journey for researching from scratch as best as they could. They didn't draw from existing research. They also sought to make this film one that's engaging for the average person. So it is no easy task to balance both. The film style may resemble Michael Moore's films but in a desi context.