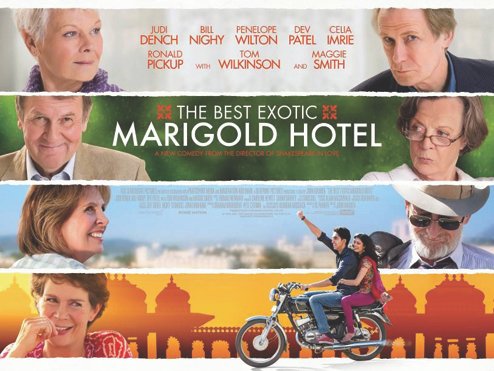 <Review by: Sailesh Ghelani>
Directed by John Madden. Starring Judi Dench, Bill Nighy, Maggie Smith, Tom Wilkinson, Celia Imrie, Penelope Wilton, Ronald Pickup, Dev Patel, Lillete Dubey.
You don't have to be an old geyser to enjoy this film. And the sheer delight of watching these brilliant – and some Oscar winning/nominated – veteran Brit actors overshadows the somewhat cliché storyline.
The film starts off establishing all the characters, the single ones, the couples and the newly widowed. You get to know all their names and realise they're all at some breaking point or the other. Whether it's old age, a lost partner, a past remembered, a renewed libido or just the need to start again in the 'golden days' of their life.
They all end up booking a trip to India (since it's cheap and 'exotic') staying at a 'refurbished palace' in Jaipur called The Best Exotic Marigold Hotel, a place for the elderly and the beautiful. It's run by Sonny, a young Indian chap (played by Dev Patel) who is trying to restore the place to its former glory but doesn't quite have the means. The old bunch decides to dive in to the rickety old place and make the best of it. They all have their own personal journeys of discovery and enlightenment along the bustling, noisy and dusty roads of India.
Rather than going in to the details of what all the characters get up to on their trip let me just say that the group find new love and new purpose, get rid of old prejudices, realise that they can be independent and fruitful even in a ripe old age and even thrive.
I think it would be presumptuous of me to tell you of the performances of these fine actors. They are superb, effortless and enjoyable. My personal favourites are Bill Nighy and Maggie Smith. Slumdog Millionaire's Dev Patel isn't too bad either.
The movie is a bit long and you may wonder whether it was wise or necessary to include a gay angle with one of the characters (I'm not saying which one) but at the end of it all you'll find your stay at The Best Marigold Hotel was a pleasant one indeed.