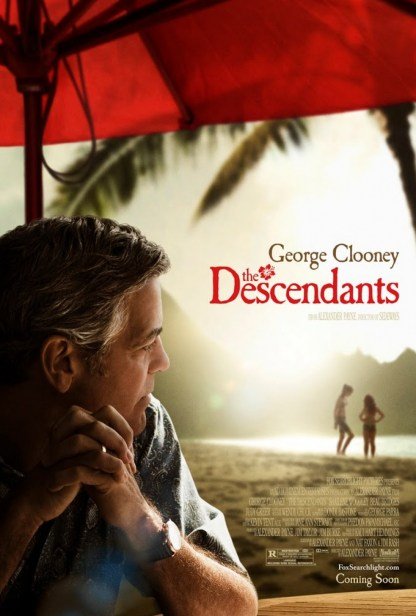 <Review by: Sailesh Ghelani>
Directed by Alexander Payne. Starring George Clooney, Shailene Woodley, Amara Miller, Robert Forster.

This Golden Globe winner is a funny little film with a lofty title that focuses on a family with serious problems and how they deal with it in a lighthearted and sometimes comical way.
Opening with a boating accident in which Max King's (George Clooney) wife Elizabeth (Patricia Hastie) is rendered paralysed and in a coma, The Descendants immediately gives you a sense of what you're getting into. A dysfunctional family living in 'paradise' Hawaii with a lawyer father who never had enough time for his wife and kids, who in turn went their own way dealing with things. 'Backup parent' Max must now take care of his bratty daughter Scottie (Amara Miller) and her rebellious older teen sister Alex (Shailene Woodley), deal with an ancestral piece of land on an island in Hawaii that his cousins want to sell off and confront the man who has been having an affair with his wife. That last bit he only finds out from his daughter Alex who fought with mom just before she went into a coma.
You must hand it to director Alexandar Payne (Sideways) for letting this little tale unfold at its own pace and without the general tradition of making films like this tearjerkers. As Mrs King is lying in a hospital bed with tubes sticking out of her, husband Max and daughters Scottie and Alex don't think twice about yelling at her, cursing her and chastising her. Little wonder then that the doctors tell Max she will not wake up. So, as per her Will, she must be disconnected and allowed to die. Max's anger at his wife doesn't make him a monster though. He wants to find this Brian Speer (Matthew Lillard) who has been sleeping with his wife and ask him to visit her before she dies since she apparently loved him and it would mean a lot to her. Perhaps this is Max's guilty conscience, his father-in-law (Robert Forster) berating him for not buying Elizabeth a boat and not providing 'thrills at home'.
Shailene Woodley as Alex has a strong feminine presence in the film, her tough-as-nails girl softened by her father's vulnerability. And her seemingly stoned 'friend' Sid (Nick Krause) provides more comic relief as he makes some inappropriate jokes about Alzheimer's and retarded people but balances that out with some sound advice to Mr King proving that he is indeed not a dumb loser.
The Descendants is more comedy mixed with drama and more coping with life than dealing with death. References to ancient royal family ties make for an ideal contrast of new modern more real family tribulations. Little things like Clooney putting on a pair of shoe sandals and running from his house to their best friend's place to find out about the man his wife was having an affair with are dealt with a unique eccentricity. He looks clumsy as he trots along almost like a girl in those awkward sandals.
The film does feel a bit long and drags at the end but unlike its lofty and sombre title, The Descendants is a charming, funny little story about family and indeed about families everywhere.