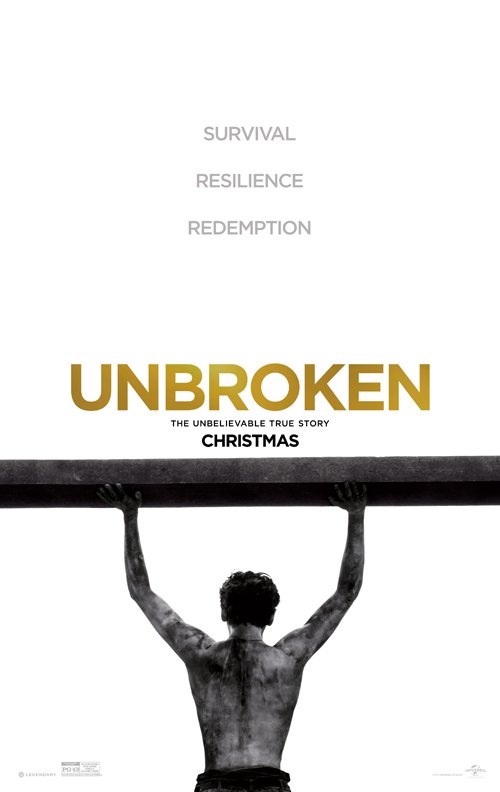 <Review by: Sailesh Ghelani>
Directed by Angelina Jolie. Starring Jack O'Connell, Domhnall Gleeson, Garrett Hedlund, Finn Wittrock, Jai Courtney, Takamasa Ishihara (Miyavi), John D'Leo, Alex Russell
Angelina Jolie's Unbroken is surprisingly stirring and masterfully directed. Another war film that details the tortures that we never see.
Most people wouldn't be expecting too much from a film directed by Angelina Jolie. But they'd be wrong. I mean first of all, she's Angelina Jolie. There's a certain sexy grace and dignity that she brings to every role she plays. And she's a person who cares about issues. In fact, both she and husband Brad Pitt seem to have taken an interest in wartime stories. Pitt's film Fury is also set in World War II and similarly portrays the camaraderie and tortures of war. Both films give you a very up close and personal view of unending suffering that goes on during wartime. Perhaps it's in an attempt at showing us why we should never have another war.
The film is based on a book Jolie and millions of others fell in love with. Also called Unbroken, it was written by Laura Hillenbrand in 2010 as a biography of WWII Prisoner of War and Olympic Athlete Louis Zamperini. Apparently the film hasn't been able to showcase all the traumas (including post traumatic stress disorder) that he went through. Well, unless you had a three part series, I'm guessing that would be difficult and it'd be quite a task to sit through so much misery however slickly and poignantly it has been captured.
We are however given an introduction to Louis's childhood as an Italian immigrant living with his family in Torrance, California and how he was a problem child who with some goading from his protective and loving brother (John D'Leo, Alex Russell) joins professional running and is so good at it that he ends up at the 1936 Olympics in Berlin. Well, we know how that turns out.
Louis is a bombardier with buddies who he cares about. He's a changed man. But a failed rescue mission sees him and his crew crash land in the ocean. He and two survivors Phil (Domhnall Gleeson) and Mac (Finn Wittrock) are marooned in lifeboats for 45 days. Jolie has so brilliantly captured this time period that it makes you wonder how horribly pedantic a film like Life Of Pi was!
As if the horrors of this survival story on the ocean weren't enough, Louis and Phil get picked up by the Japanese and taken to a POW camp where two years of torturous tribulations are heaped upon Louis and the audience. At points it seems unending. The brutality of prisoner of war camps and the insidious nature of the enemy. It's not as if we haven't seen similar stories. It's just that Unbroken delves into the details and doesn't give much breathing room for the audience to do much else other than let out a short sigh of disbelief.
And war stories are always wonderful to capture the bonding between the men who must fight to protect their freedoms. Unbroken very nicely shows us the intimate relationship Louis had with his brother Pete and then with his buddies Phil (Domhnall Glesson) at sea and Fitzgerald (Garrett Hedlund) in the POW camp.
I loved the first half of the film where occasional flashbacks gave us Louis's childhood story and where you never really knew in what direction the film was going. It was just beautiful to watch. John O'Connell is both pretty and talented. He lost weight for the scenes where he is in the POW camp. His eyes are so intense that you can feel his pain, a silent pain, sometimes so deep that it hits you how horrible war is and why it should be avoided at all costs.
At the end we are shown the real Louis Zamperini, who died in July 2014 having seen a rough cut of the film. In not showing us his entire life story (which would not have been possible nor advisable), the film may have whetted our appetite and interest enough to go and read the book. I'd say that's a good film.
PS: I preferred Angelina Jolie's Unbroken to Brad Pitt's Fury. Which one did you like better?