She wowed us with her performance in Yeh Saali Zindagi and her bold kissing scenes in spite of being the 'innocent girl'. Aditi Rao Hydari has acted in Delhi-6, Rockstar and now London Paris New York where she plays three different types of characters. Aditi has even sung two songs for the soundtrack. She's a trained classical dancer and a lovely girl who prefers it if her work speaks for itself. Sailesh Ghelani has a chat with her about her movie (and some doubts about plot points), about doing sex scenes and her co-star Ali Zafar. 
Wasn't it fun playing three different types of characters in London Paris New York (LPNY)?
I read two pages of the script and was hooked, it was in English at first and I read it in half an hour, and giggled through London, got a hollow in the pit of my stomach in Paris and raced through New York hoping Nikhil and Lalitha would end up together. Lalitha's journey was great fun to perform from innocent and simple to confused and dark to feminine and relaxed; this role had everything except an action sequence! It was a lot of work and a lot of fun, which is the perfect demand of a film.
Which one was your favourite?
I can't pick, that's a tough one. For me its like comparing dal chawal, a cat and a gown! I liked them all for different reasons. I loved the angelic innocence of London, it was comfortable to be that way and London in summer was a great help, it's the best city to be in the summer and people are warm, friendly and always in a good mood and the weather is perfect. Paris was tough, very against my grain and prickly but it's great to snap into a persona and inhabit it while the camera is rolling, again Paris as a city and the very cold and difficult weather conditions helped a lot, the cold aloofness and edgy intensity of Nikhil and Lalitha were mirrored by the city. New York, where they become comfortable with who they are; it's a city that gives you that freedom and is buzzing with energy.
Was Paris the difficult one for you?
Paris was like too cold, there were language difficulties, and the shoot was a problem. Everyone was on edge there and in the film was like that too. NY was chilled out and fun and energy. Lalitha has a wall in Paris but it all dissolves in that lovemaking scene. She becomes all heart and tears up. So Paris was exciting for me in that way. I got to do something so against my grain. She starts experimenting. When she sees him that wall comes down.
Did you do a lot of shopping in London and what did you buy?
We had an 18-day schedule in London so you can imagine how much free time we had. Almost nothing! I got 2 Sundays off and I walked to Soho with friends and ate at a fabulous Japanese pancake restaurant, I wanted to go to all the exciting weekend markets but couldn't manage so I went to Oxford Street and bought up all of Top Shop!
I watched the movie and found it had some dark undertones and wasn't typically sweet and mushy. What did you think after watching it?
I thought it was an honest film, a sweet breezy story about two people told from the heart, and yet it had many layers and a lot of depth. It felt real, I usually find it very hard to watch myself, but I forgot I was watching Ali and myself. I loved working on this film and so did every single person on the set and I think that showed. It was filled with happiness and love.
You've even sung two songs on the music album for London Paris New York. You're so talented! But does talent alone help you get roles in Bollywood?
It's a combination of talent and being seen and heard and putting yourself out there. For me, I always believe that all my energies should go into a performance. I'm good with people but I don't want to force somebody to take me in a film by constantly badgering them. I wish that that wasn't essential. I hope I'm proven wrong. I don't have a PR person. I'm very happy to meet people. A film is about teamwork and you have to know that you have a comfortable rapport with everyone. I think one can do PR the way one wants to do it.
There was a review about London Paris New York that was quite scathing and you posted that to your Facebook wall asking people their opinions… 
I've grown up with this attitude that criticism and praise both have to be accepted but taken lightly. One must listen to it, try and make the changes. But you must only listen to people you trust, when you know they want you to learn and grow. My thing is that is this the way to write a review? It's just anger and hatred. You shouldn't tear a film apart. My job is to constantly improve my performance and I will do that when it comes from a constructive place. There were a couple of people who said that they didn't like the Paris portion in terms of the script. There were lots of discussions we had on this script. A film is a director's baby. The film was made like an English film where a lot of things were left to the audience's imagination. We didn't want to spoon-feed the audience. We believed in the script.
Ali Zafar (read his interview here) was really good in the film wasn't he? When I went to watch the film all the girls in the theatre were like, 'He's so cute.' Is he a very serious person?
Ali has a very good sense of humour but he goes deeper into himself. He's actually not intense but he has a deep soul, he's a thinking person. He's not frivolous. He has very serious discussions with me about life and being an artist. He'll tease me about being naïve. I love hanging out with people, and being the centre of attention. But I am a deep person; my friends say I oscillate between being a 5 year old and an owl. So that's why I get along with Ali Zafar since he's also quite a thinker.
You said he was great putting you at ease in the love making shots but apparently he told the director he didn't want to do sex scenes or get too intimate. Did he explain his reasons to you? 
I know that Ali comes from a space where he wants to be in films that are accessible to everyone. And he didn't want to offend people. If I find that a topic is really sensitive then I don't really bring it up. So I didn't prod him about it. I believe he would do it for a good reason. Once I was on set and we were shooting the Paris love scene. And all I'll say is that he was very comfortable in that scene. He asked me, "What is the reaction people in India will have to scenes like this?" And I assured him it would be okay. I'm always told that I'm so innocent but I can still do these scenes. You have to understand that the moment something is vulnerable and honest it becomes believable and sweet. As an actor you have to be completely in the moment and go with that scene. I think the scene is turned out really nice.
You're okay doing intimate scenes right… you've done it with Arunoday Singh in Yeh Saali Zindagi?
Well that was Yeh Saali Zindagi. Director Sudhir Mishra believes every single second of his film. As soon as I know that and put my trust in him that scene becomes my scene and I'll do what it takes.
Wow London Paris New York got away with dialogue like 'cock tease'. Are we getting more permissive?
We were all very stressed. There's a line in the film: "Woh log sex positions discuss kar rahe hai" ("Those people are talking about sexual positions."). We got an A rating for the trailer for that. It's an innocent scene. We were like 'oh my god what is going to happen to my film'. Things like 'bastard' and 'cock tease' are normal nowadays. In my house if my Nana heard me say 'shit' he would be like 'Aditi!'. Now I'm in my own house I use bad words sometimes. Luckily we had a fabulous censor board team. We got a U/A certificate with no cuts. That also shows that the censors have really grown up. They believe that films are not be censored now but to be certified correctly.
Okay, so this girl was a 'cock tease' and she was going to get married to someone else the next day. Wouldn't she have been like frantically preparing for the big day rather than going out with Ali that night?
Even I asked that question. Then I was told, correctly so I thought, that this girl is starting an NGO, she doesn't believe in Valentine's Day love. She has decided that they are going to go into a Church and getting married. If you have a low maintenance wedding then you're not really going to be having huge preparations the night before. This girl is one of those kinda girls. So I said, 'Okay fine, whatever'. I would not do that the night before my wedding!
What I didn't understand was that if she was sorted and going to get married then why meet up with him and why does he run after her if he thinks she's a 'cock tease'?
If you look at Lalitha, she's very interesting to play, there's a huge innocence about her, she is all heart. She can't bear not to meet this guy. But at the same time the knowledge she has fights with her head. So she becomes logical about things. But they're like magnets. And that's what frustrates Nikhil, who is a bit more simplistic than Lalitha. He goes with his heart. He calls her a cock tease but she cries because that's not the reason in her head. She's not weak; she's stunned into silence by being called a cock tease. It was an inner conflict. She's frustrated with herself as well.
Your FB status recently said: 'back with a smile and a calmer brain…giant steps towards the light i say!' What prompted that?
I went for an event for Habitat for Humanity, a wonderful NGO, in Goa. The event got done and I was getting ready to leave. I'm not a very impulsive person but suddenly I said to myself, 'Why am I rushing back, I can take a break'. I have friends who have a home there and I called them and stayed back for 4-5 days. I joined a yoga class and went to an acupuncturist who asked me if I hadn't slept very well recently. I hadn't because of all the LPNY promotions. He told me to go to sleep immediately. I needed that break. When we were promoting the film I was happy but they are really difficult because you have to constantly talk about yourself and your film. My friends thought they had lost me to this world, it was so bad.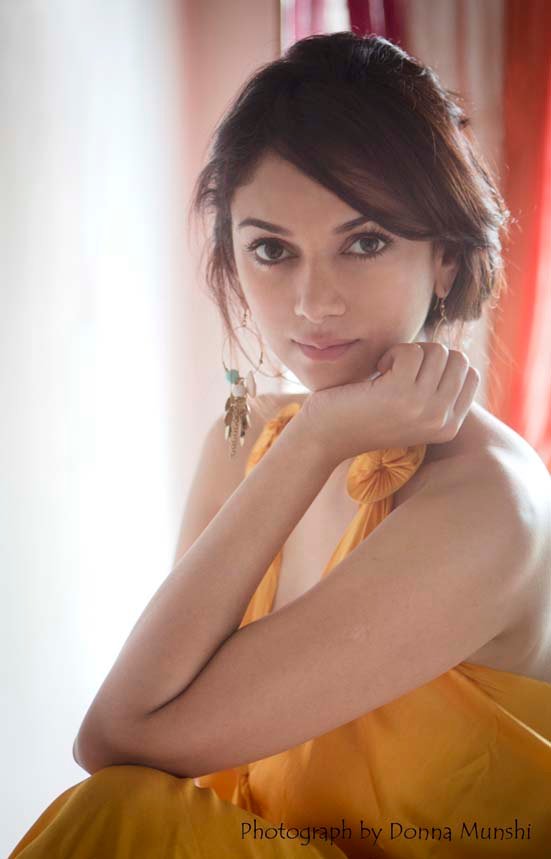 Are you still in touch with your old Yeh Saali Zindagi kissing co-star Arunoday Singh (click for interview with him)?
Arunoday is a very good friend of mine and we do hang out whenever we can. Even Cyrus Sahukar (Delhi-6) is. And I meet Sonam Kapoor whenever I can. I'm not from this world but I like keeping in touch with people. There are very few people who you can actually like and be friends with.
You worked with Ranbir Kapoor in Rockstar. Is he a nice guy?
I didn't spend enough time with Ranbir. He is somebody I can go to for advice. I respect and admire him a lot. I hope I can do a full-fledged film with him someday.
What was your favourite Oscar-nominated movie?
Iron Lady. I was 'Oh my lord'. I was thinking why does this not happen in our country. Meryl Streep becomes exactly like Margaret Thatcher. Hugo is also very much my kind of film. It was like a picture book come alive. My Week With Marilyn was nice too. Marilyn Monroe is like the Taj Mahal and then when you see someone play her you're like 'Oh my god, it's impossible for anyone to do this'. But after a while you watch this fabulous actress (Michelle Williams) play this vulnerably twisted girl.
What have you been doing for fun these days?
I've been sleeping, hanging out with friends. I want to watch Kahaani.
Read our first interview with Aditi Rao Hydari here.
Read more interviews here.