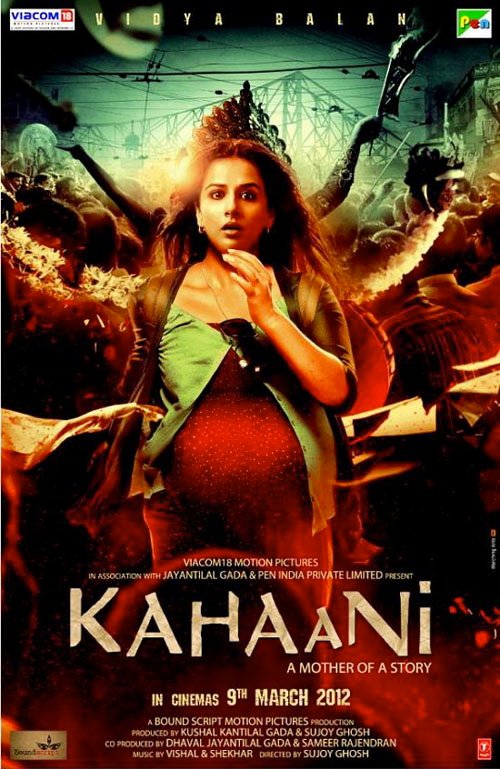 <Review by: Tushar A Amin>
Directed by Sujoy Ghosh. Starring Vidya Balan, Parambrata Chattopadhyay, Nawazuddin Siddiqui.
Oscillating between riveting and plain silly, Kahaani is a mixed bag of a film that is elevated to an above average entertainer stature, thanks to yet another gutsy performance by Vidya Balan.
It is very rare for Bollywood movies to get all the elements – the story, the characters, the setting, the dialogue, the cinematography, the editing and the music – right. (The last time this happened was with Delhi Belly). Even rare is the possibility of such a fine balance being struck in a suspense thriller. Any Bollywood follower will agree that subtlety and nuances are just not our things.
The first half of Kahaani forces a rethink on this front. Almost. The film grabs you by the balls as a heavily pregnant Vidya Bagchi (Vidya Balan) lands at Kolkata airport, is swarmed by touts and cabbies, heads straight for Kalighat Police Station and begins her exasperating search for a husband Arnab Bagchi (Indraneil Sengupta) who no one believes even exists. As a resolute Vidya persists in her search, she stumbles onto a case that someone in the Intelligence Bureau wants to be left alone. While there are a few characters like the genial cop Rana (Parambrata Chattopadhyay) who goes out of his way to help Vidya, there are others like IB Officer Khan (Nawazuddin Siddiqui) and contract killer Bob (Saswata Chatterjee) who want Vidya gone.
As the mystery around Arnab Bagchi unfolds, for most of the parts we are treated to one of the most tautly structured suspense thriller in recent times. All along, it also etches immensely believable and some likable, some quirky characters and captures the true spirit of the City of Joy. The one aspect in which Kahaani fumbles is in its attempt at simplification and over-exposition. There are points where the proceedings almost resemble that most successful (and most ludicrous) investigative television series C.I.D. But given Bollywood's general tendency to underestimate its audience's I.Q. (very much justified by trailers of films like Housefull 2 and films like Char Din Ki Chandni screening in the audi-next-door) this is a minor niggle in an otherwise finely-crafted film. The climax too is a bit filmy but then, that is what we ultimately are. Filmy with a twist.
On the performances front, Parambrata Chattopadhyay proves to be one of the perfect piece of casting in recent movie history. His gentle, likeable and caring presence forms a perfect foil to Vidya's tough-nut act. Nawazuddin Siddiqui plays the gritty, worldly wise intelligence officer with conviction. Cinematographer Setu has shot the city of Kolkata with such detail that it emerges as a living, breathing character in the film. The editing is crisp and flawless and the background score adds to the overall chaotic and labyrinthine feel of the film.
Sujoy Ghosh who started out with a promise with his Jhankaar Beats and then slipped into mediocrity with films like Home Delivery and Aladin, does a brilliant job in extracting fine performances from all his actors. Ghosh and his co-writers Suresh Nair (screenplay) and Ritesh Shah (dialogue) have maintained a fine balance in structuring this jigsaw puzzle. The writing is spot on, incorporating the nuances of the city and its citizens but never once making the Bengali aspect overbearing.
But as the films opening titles suggest, this is Vidya Balan's film all the way. She proves her mettle yet again. She is in absolute control, owning every aspect of the character, making it so believable that every time she stumbles your heart is in your mouth. She gets every shade of her character just right – whether it is dealing with the two immensely likable kids or the stubborn, arrogant IB Officer Khan. Vidya makes Kahaani a delightful, riveting watch. A must see for thriller lovers.