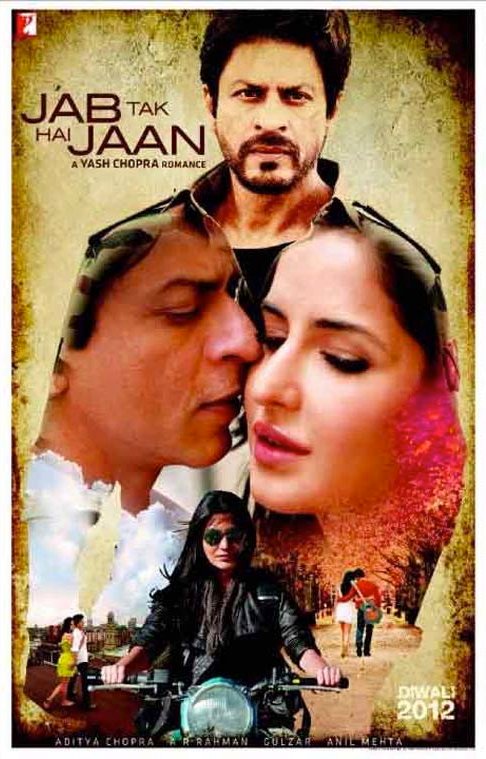 <Review by: Sailesh Ghelani>
Directed by Yash Chopra. Starring Shahrukh Khan, Katrina Kaif, Anushka Sharma, Anupam Kher, Rishi Kapoor, Neetu Singh
A movie full of ridiculous plot points and a horrible first half – partly due to Katrina Kaif's lack of acting talent – Jab Tak Hai Jaan would have been a complete write-off if it weren't for Anushka Sharma's splendid performance.
Yes it is Yash Chopra's last film as my friend informed me, but that doesn't mean it's a good film. He didn't retire; he was taken away due to a sudden illness brought on by something as unromantic as a mosquito bite. If given a choice, I doubt he'd want Jab Tak Hai Jaan to be remembered as his last film.
Samar Anand (Shahrukh Khan) is a young (really?) man living in London trying to make it big. He plays the guitar and sings on street corners during the day and works a job as a waiter at night. During his stint as both he bumps into a young and beautiful girl called Meera (Katrina Kaif) and falls in love with her raven tresses and penchant for making ridiculous promises and wishes in front of god (pay attention, this comes into major play later on) in a surprisingly empty-all-the-time church. Meera notices him too but she's betrothed to her childhood firang (foreign) friend and needs to learn how to sing a Punjabi song for her wedding. So she enlists Samar to teach her, and thus begins their clichéd montage romance and song-and-dance that takes them to different locales in different dress changes. Ho-hum.
Samar has a bike accident, which for reasons all-too-stupid, keeps him away from his love Meera (she's fine with it in theory). So he leaves London and becomes a soldier in the Indian Army stationed in Jammu & Kashmir. He's a bomb disposal specialist and that's so he can be placed in deaths way as many times as possible. I won't explain since that will ruin the fun (and stupid) part of this film.
The first half is full of inexplicably bad music and songs. Little is done to establish this eternal love between Samar and Meera. There's no chemistry either. When Meera uses her 'faith' to keep them apart, you'll find audience members saying 'Slap her'. One can't fathom why on earth he'd fall for this spoilt brat with religious zeal that borders on psycho.
Anyway, thankfully when he's in his brooding soldier avatar he also meets a journalist named Akira Rai (Anushka Sharma) who is fascinated by the man and wants to do a documentary on his life after she accidentally reads his diary and finds out about his long lost love. She secretly wants to have sex with him. And she makes no bones about this or about wanting to sleep with men of different languages. Alas, Samar cannot return her love but Akira's entry into his life brings Samar back to London after 10 years and… another road accident! And retrograde amnesia where he can only remember things from before 10 years of his life! You know what happens next.
Anushka Sharma plays the bubbly, sexually charged and vivacious Akira perfectly. In fact, you wonder why the film didn't start off from after the interval. It looks like a totally different film.
The plots holes make you want to tear your hair out at points and you can only hope that at the end Samar and Akira get together. No chance. And that's what makes this film unsatisfactory to most. People don't want him to get together with Meera at the end. It doesn't feel right. Maybe because of how the film has been made or perhaps because Katrina Kaif has failed to create any interest for us in the character.
Jab Tak Hai Jaan is not so much about how one woman can make or break a man, as much as about how one woman can make or break a movie, as a friend has rightly put it in her tweet about the film (and graciously let me use it!).