That girl who helped redefine the modern Indian actress with riveting performances in films like Dev D, That Girl In Yellow Boots, Shaitan and Zindagi Na Milegi Dobara. She is inimitable Kalki Koechlin, actor, writer, theatre personality and of course the wife of director Anurag Kashyap. Her Hindi is better now and she's still doing the risque, unconventional roles that she's brilliant with. Sailesh Ghelani chats with her on their second interview and finds out which Hollywood actor she finds droolworthy and how fame has changed her.
Aapki Hindi kaisi hai abhi? (How is your Hindi now?)
Pehle se kaafi achchi ho gayi, lekin iss pe kaam kabhi khatam nahin hoga! (It's a lot better than before but the learning never ends!).
I remember seeing you in Dev D and thinking, 'Wow, she's wonderful' and that's why I asked my ex-boss if I could interview you when I worked at Filmfare. He was skeptical about you as an actor (of course all that changed with the awards!) but he let me do the interview. Did you imagine you'd do so well?
No idea at all. In fact, after Dev D I did not get any film work for a year-and-a-half and went back to theatre, wrote a play and put it up.
Does it help to have Anurag as a husband? Both professionally and personally…
Of course it helps personally to have someone who loves, supports and respects you. Professionally it can go both ways, it's helpful to be with someone who understands the hectic schedules, and can exchange creative ideas but of course it also means people cannot separate the two of us and assume that we think exactly the same and have the same opinions, when actually we are two very different people.
I recently interviewed your friend and co-actor Gulshan Devaiah. What do you think of the man and the actor?
He's a great actor. I first saw him in a play, Butter and Mashed Banana and he has just kept improving himself. He's focused and obsessive about his work. He's also a good friend and I love to make fun of his tendency to be obsessive compulsive!
You're a multi-talented person; you love theatre, acting, and writing. Do we see a bit of directing in your future too?
Thank you! Well right now I've just finished writing a play and I am playing with the idea of directing it myself as I have some time off. It is something I would like to do for theatre because that's a world that I'm very familiar with, but not for film.
My Friend Pinto. What made you do it? Did you wish you hadn't?
I liked the innocence of the character, and I liked the Charlie Chaplin kind of charm the script had. I do not regret any of my film work because I learn so much from every experience. Of course I always wish I had done better, I always want to improve myself but I am happy I did My Friend Pinto. I enjoyed the process very much.
What's the difference working in a small film like That Girl In Yellow Boots and a big film like Zindagi Na Milegi Dobara?
Well apart from the size of your hotel room, the basic difference is pressure. Both films have pressure to do a good job, but in a small budget film you have less time and less resources so you end up doing a lot of rehearsals and prep before being on set. On a big budget, there is time to rehearse and perfect the look on set but the shooting takes longer.
Which is the role you had to prepare for the most? And what did you learn about yourself doing it?
Well I prepared most for That Girl In Yellow Boots simply because I co-wrote it. When you write, you end up thinking about the character a lot more, her background, her inner thoughts, things which don't always end up in the final script. Doing the filmI realised so many of my shortcomings as a writer! I kept wanting to change lines that I had written! But I learnt how important it is to dig deep into a character, to not assume anything and to question everything.
In our last interview (for Filmfare) you had said: "I'll never think doing risky roles is wrong, if I become like that I will allow you to slap me." Thankfully I don't have to do that!  And now, with you and someone (considered conservative) like Vidya Balan doing The Dirty Picture, it seems like these roles are getting more acceptable. But do you think actresses will still shy away from them?
Yes, I remember that, and I'm glad you didn't slap me when you saw me at Hayavadana! (we had met at Girish Karnad's play a while ago). I think the question is: are we providing enough of these roles for actresses? Most of the script work out there is very male orientated, and when there are women orientated films they are often not very convincing. Until the change happens with our attitude towards women, it will be difficult to get actresses to do such roles.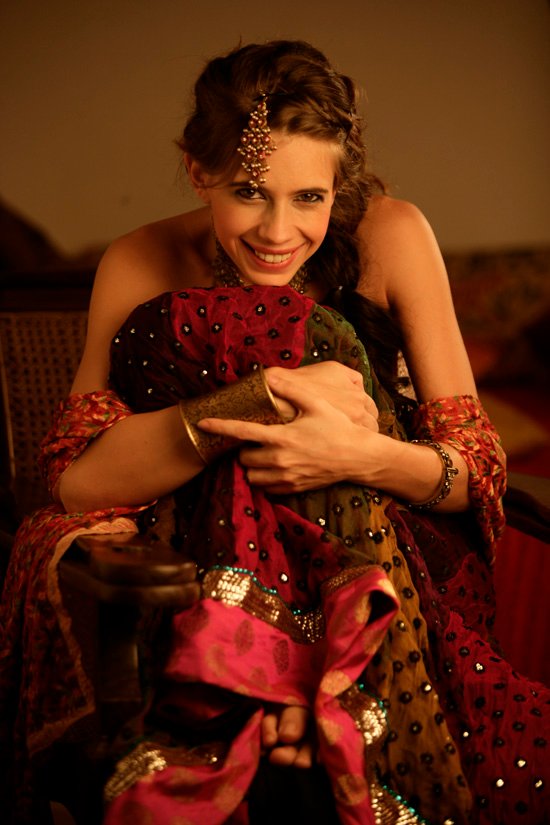 How has fame changed you… being more suspicious of people's motives, becoming introverted or extroverted?
Strangely fame has made me stronger because when people insult you, criticise you or praise you, you have to learn to take it without letting it get to your head. You have to learn to laugh at yourself and just keep improving where you have gone wrong. Now when I meet new people I am genuine and respectful but withheld, I cherish the friends who treat me the same after fame as they did before, and I've stopped listening to gossip.
Tell me something about your next film Shanghai.
Shanghai is a political thriller, which really draws out the hypocrisies of our political and social system in India today. I play a young student named Shalini, who is a very emotional political activist.
The movie was better than the book… name one.
The Dark Knight.
Five best films of all time for you.
Les Enfants du Paradis, Pulp Fiction, Pyaasa, Leon The Proffessional, Blade Runner, Eternal Sunshine Of The Spotless Mind, La Femme Nikita, Contact, À bout de souffle. I know that's more than five but there's just so many!
Julia Roberts inspires you but what Hollywood male actor makes you drool?
Ryan Gosling. A year ago I didn't know who he was and now I watch all his films. So talented and so gorgeous.
Kalki sent us some lovely pictures of her and Anurag together. Take a look:
Read more interviews here.