Our special correspondent in 'Torono', Swati Sharan has been mingling and movie watching at the prestigious and celeb-filled Toronto International Film Festival 2013 especially for Minority-Review after we received press accreditation from them.
Read our exclusive coverage and watch the videos where she asks questions to celebs like Pierce Brosnan, Emma Thompson and Liam Neeson here.
Here are her reviews (2nd Set) from some of the many films being screened at TIFF 2013
Gravity (1/5)
Directed by Alfonso Cuarón | Sandra Bullock, George Clooney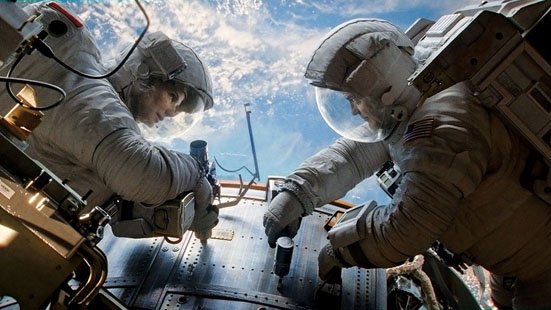 The story is about Ryan Stone (Sandra Bullock) who is a lone survivor in space after satellite debris hits and destroys her crew's spaceship. Her mission is to get back to earth. Can she do it or will she be pulled away into deep space?
Call it the power of gravity if you will.  But much like its title, this sci-fi film thriller falls flat on the ground. The story pace is just abysmally dry and un-engagingly slow. The special effects are nice if viewed in 3D to the point that you may feel dizzy at times or feel the debris being thrown at you from the screen. For an Indian audience, it might be amusing to hear Mera Joota Hai Japani sung in space by one of the Indian NASA workers. But it's not worth the watch. Imaginably, however, one can foresee amusement park rides and video games culminating from the film's hype.
Faith Connections (3/5)
Directed by Pan Nalin
Faith Connections is a documentary directed by Pan Nalin and is one of the featured Indian selections at TIFF 2013. It covers the Naga Babas' intrigue towards the Kumbh Mela as well as some of the problems surrounding it. With its hysteria of millions of people coming every year, many cases of missing people occur and it also shows how volunteers and police take steps in finding the missing people. There's also a boy who mysteriously appears during the Kumbh Mela period before the Naga Babas whom Nalin is interviewing and endears himself to them all. The film shows us how through certain practices, Hindus look externally for their spiritual quest and the extent they're willing to go for this vs. looking within for the divine experience.
Nalin has painted a compelling portrait of many of Hindu society's foibles but with a voice of compassion. Some may possibly criticise him for showing this to a Western audience because it is exposing some of the flaws in how the Kumbh Mela is carried out. But yet, in spite of all that and the current materialistic era, never have there possibly been as many Hindus willing to take on those drops of immortality the Mela is so fabled for. On some level, it should serve as an eye-opener for a West for which religion or spirituality do not play as strong a role. One does wish however that there could have been a bit more focus on the actual divine experience.
Mandela: A Long Walk to Freedom (4/5)
Directed by: Justin Chadwick  | Idris Elba, Naomie Harris
Based on the autobiography of the same title, the film depicts key points in the South African leader Nelson Mandela's life with more focus taking off from approximately his early 40s onwards and his fight with apartheid. Apartheid was a system where Blacks were considered inferior to Whites and were extremely restricted and discriminated against. It was abolished in the early 1990s. Inspired by Gandhi, the film starts with Mandela's court protests and non-violent protests like those over bus fares.
Gradually, we see the tribulations that he and his family went through while Mandela spent 27 years in prison for his beliefs about a fair and equal society. But perhaps the greater crux came after his release. For by this period, he was torn between his own ideologies and those of his wife Winnie's. Though he ceased to have bitterness and wanted the conflicts between his people to end, Winnie encouraged Blacks to react violently to their oppressors. And though there was such a long walk to freedom, in real life, as leader of South Africa, Nelson did in the end manage to lead the nation with love.
Re-created with great accuracy, the film enthralls and compels with a great hue of compassion and tears and tugs at the soul. Never were there more claps for a film at this festival than what I saw here. And indeed, as the film crew have attested, this film was made with the challenge of covering such an expansive life in just 2 hours. And perhaps it is this challenge that has limited the viewer's understanding of things like specific steps Mandela took to keep South African Blacks unified in his protests.
Elba and Harris are so authentic in their acting that you can't believe they aren't Nelson and Winnie while you're watching. So much so that when Nelson Mandela saw clippings of them, he said of Elba, "Is that me?"  The cinematography also is just beautiful with its coverage of the South African landscape. Indeed, Mandela's life pages are lessons for us to learn if humanity is to progress globally.
Watermark (2/5)
Directed by Jennifer Baichwal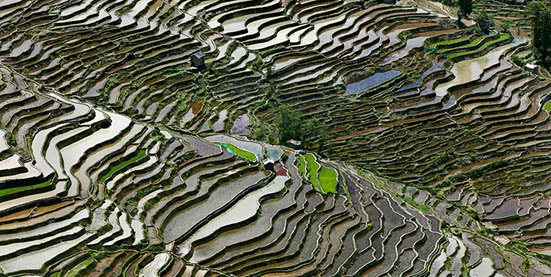 Watermark shows how humans use water as it stands on a global level in terms of how it affects us on a daily basis. The world is a stunning landscape of beauty and some parts are absolutely stunning though what we as humans are doing to it is another matter. Where on the one hand we see pristine lakes, on the other hand, we also see how chemicals are also being spilled into it through industrial practices. In some cases, we have even pushed away the water from communities who are dependent on it.
The cinematography is brilliant but the film stretches itself a bit too long. It also would have been helpful if the transition from place to place in the film were made a bit smoother by somehow narrating or labelling the context before jumping straight into a scene.
Press Conferences and WINNERS LIST here
Read the 1st Set of Film Reviews from TIFF 2013 including The Lunchbox here
Read the 3rd Set of Film Reviews (including Qissa and Words & Pictures) from TIFF 2013 here
Read the 4th set of Film Reviews (including Shuddh Desi Romance and The Love Punch) from TIFF 2013 here)