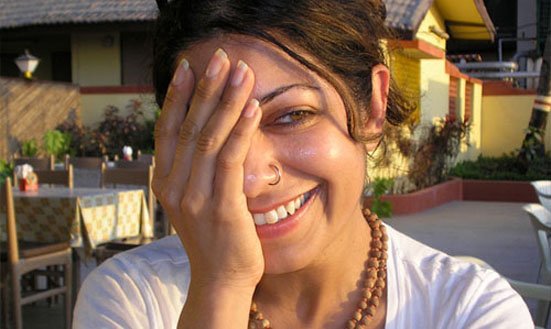 Nisha Pahuja is an Indo-Canadian who was born in India and raised in Toronto, Canada. She has worked on quite a few documentaries and won the best documentary award on a national level in Canada for The World Before Her.
The World Before Her examines both the rise of beauty pageants in India like Miss India and the rise of Hindu fundamentalist camps for women and what Indian women are being socialised to be. Nisha can also be seen as one of the discovery launching pads for Neeru Bajwa, Pooja Chopra, Ankita Sheorey and Vikeana Dhillon. And this year at the Toronto International Film Festival 2013, it gives us great pleasure to announce that Nisha sat on a very prominent jury for selection of best YouTube award for Canadian short films.
Minority-Review's Swati Sharan caught up with Nisha after ages at TIFF and they delved deeper into an issue that's the need of the hour for women in India and perhaps around the world.
Did you want to give us a synopsis of what you've been up to since I last interviewed you for Bollywood Bound?
(Laughs) I can't even remember what I did yesterday. I guess after I made Bollywood Bound I took a break and then started another project on the global diamond industry.  It's called Diamond Roads. And then I took a long break. In between I was working on other people's films. I take a break and then I find a story that intrigues me and then I pursue that. And so, after the break from Diamond Roads, I did The World Before Her.
So what intrigued you to make The World Before Her (watch the trailer that went viral on FB here)?
It wasn't one thing necessarily. I didn't approach this film thinking that I would end up with what I ended up with. It was a very organic process the way the film evolved. Initially, I just wanted to make a simple film like Hoop of Dreams using the Miss India contest as a way to explore the dreams of women in a country that was undergoing a lot of cultural changes after economic liberalisation, which happened in 1992. So that was the original idea really to make a simple film with the focus on Miss India.
Eventually, I started to read about the opposition to beauty pageants in India and Miss India. Once that started to emerge, I realised more and more about the conflict between the opposing views of what India should be and the role of Indian women in a new emerging country. And then I met Prachi whom you see in the film. She's the leader and one of the trainers of the Hindu fundamentalist camps. And then she told me about these camps. And then I thought wow! If I could get access to that camp then I would look at these different notions of nationalism, identity and women.
So obviously there's been a lot of exploration of what the woman's place is in Indian society. You're probably also familiar with the Delhi rape case that happened last December I guess. And that's probably put this issue large on the agenda. So do you feel any relation to how people are questioning what the woman's place is in society in relation to your film?
Absolutely. I feel in some ways that the film is even more relevant now. But not just that. I also feel there's a link with what's going on in India politically with Narendra Modi leading the BJP.  That's also quite an extraordinary development. Take for example the Gujarat riots. Are we returning to the power of Hindutva? What will that mean for the country? To me, that's the other pressing issue that I don't think especially that globally people are talking about.
So you're also seeing this paralleling with religious fundamentalism obviously…
For sure.
Being Hindu, you have obviously been exposed to the fundamental side. But have you also been exposed to the other side like the stri shakti side. i.e. the woman is a divine power. So do you think the divine power idea exists the way it's supposed to?
No. And I find those ideas very problematic anyway that women are held to a particular standard in Indian culture and Hinduism is used to really kind of keep them in their place. That women should have to be Goddesses or that we should have to be ideals to look up to. So we're supposed to be these Goddesses that are perfect. At the same time, we're also supposed to be subservient. That's kind of a mixed message. That was certainly one of the messages being sent in the camp where we filmed.
It was that they were sort of warrior goddesses and they had to get in touch with their inner shakti kind of idea. But they were also supposed to be subservient at the same time. It was as though the men and the country demanded that of them. That whole Goddess Durga thing has always been problematic for me.  And my parents never imposed Hinduism on us. They're very spiritual people but they're not religious people. So we were never forced to pray or go to temple. We were basically trained to do what we felt was right for us in terms of religion.
Do you see these movements, both the rise of beauty pageants and the rise of the fundamentalist camp coming up as a response to the threat of female empowerment?
I see the Durga Vahini camps as a response to the growing Westernisation of India: they are propagating an alternative sense of female empowerment from the one offered by Miss India for example. At the same time, the Durga camps attempt to subjugate women by bringing them back to the traditional Hindu fold and trying to indoctrinate women into believing that their real value is in being good mothers and wives and daughters and essentially remaining bound within the confines of patriarchy.
I see the pageants as a barometer of what is now culturally acceptable in India.  The fact that women are encouraged to wear short clothes and reveal so much of their bodies is both bizarrely a sign of progress and a sign of oppression. Frankly, not at all unlike what the girls are taught to believe in the Durga camp. Both offer a certain kind of freedom and yet also a kind of imprisonment.
I think what you are trying to ask me is whether the camps are a backlash against female empowerment in India, that perhaps they exist as a way to control women? If so, certainly the Durga camps fall under that category; as Malaben says right off the top to the girls, "Our women don't know who we are anymore." She warns them of the evils of Westernisation in at attempt to rein them in. Part of that is definitely a form of control but the other part is to also have them see that the rampant materialism (which I believe the Miss India is a part of) that has gripped India is not real progress.
The pageants to me at their heart are less about empowerment and much more about globalisation. How they are interpreted by some of the girls however, including Ankita is as an opportunity to achieve a kind of independence and freedom that they could not get otherwise. That is a telling way to look at an institution (pageants), which is regarded as regressive in the West.
I would say that both camps reveal a country and a culture in painful transition.
Are there any other projects you are up to?
I am working on a few different projects at the moment but the one that I am most focused on is a series and a feature documentary on the rise of fundamentalism around the globe.
Nisha is working on releasing The World Before Her to theatres in India and is planning a gender development tour for rural India using the documentary. 
Watch the trailer of her award-winning documentary The World Before Her:
Read and watch this interesting feature by The Guardian on The World Before Her here
 Press Conferences and WINNERS LIST here
Read the 1st Set of Film Reviews (including The Lunchbox and The Invisible Woman) from TIFF 2013 here.
Read the 2nd Set of Film Reviews (including Gravity and Mandela: Long Walk To Freedom) from TIFF 2013 here
Read the 3rd Set of Film Reviews (including Qissa and Words & Pictures) from TIFF 2013 here
Read the 4th set of Film Reviews (including Shuddh Desi Romance and The Love Punch) from TIFF 2013 here